New Awards Program Invites Staff to Create, Innovate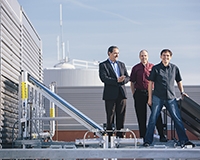 UC Merced staff members: If you have a novel idea that improves how vital tasks get done, boosts the work environment or enhances customer service, the chancellor wants to hear from you.
Chancellor Dorothy Leland recently announced the launch of the Chancellor's Innovation Awards, a new program created to inspire staff members to develop transformative ideas that can be applied and replicated on a wider scale.
The program's goal is twofold: to encourage staff share their innovative ideas and offer well-deserved recognition and financial reward for the top proposals.
The first-place prize is $5,000; second place is $2,500; third place is $1,000; and there are five honorable mention awards, each worth $500. Winners also will be invited to dinner at the chancellor's residence to discuss their innovations with her and campus leaders to develop strategies to implement the proposed ideas.
As UC Merced continues grow, Leland wrote, "We face challenges that will require us to be a leader among UC campuses." The Innovation Awards program reinforces the value of innovation to the entire campus community.
Submitted proposals must address innovations in one of the following four categories:
Organizational structures
Process improvements
Customer service
Improved work environment
Proposals can be new ideas or ones that have already been piloted in individual departments, and submissions can be made by individuals or teams. A submission template is posted on the Innovation Awards website. Each submission will be judged on four criteria: creativity, impact, replication and scale, and maturity. Each finalist will be invited to submit a presentation — a PowerPoint or two- to three-minute video — about his or her proposal. Faculty and staff members and students will be invited to view the presentations and vote on the submissions.
The deadline to submit proposals is March 31. More information about the Chancellor's Innovation Awards, submission process and voting is posted on the Office of the Chancellor website. Questions should be sent to innovationawards@ucmerced.edu.