New Downtown Center Focuses on Child Development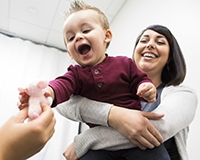 Parents, caregivers and community members in the Merced area have a new resource for information about childhood development and disorders.
The UC Merced Alliance for Child and Family Health and Development, in downtown Merced, is a place where people can make connections, find resources and learn more about typical and atypical development and disorders. The roughly 1,100-square-foot space, at 1018 W. 18th St., also allows for research, teaching and community outreach, the three prongs of UC Merced's mission.
Plans are underway for a grand opening, but the center has already created a physical presence for a growing collaborative effort. The Alliance includes more than a dozen organizations, research laboratories and other programs connected to child and family health and development.
First 5 Merced County is one of those partners.
"We see this as an exciting opportunity for UC Merced to partner with us and really be able to provide an ongoing service and resource to the community," said Myisha Reed, program manager with First 5 Merced County.
The Alliance was founded by Jeffrey Gilger, a professor of psychological sciences and the Carlston Cunningham Chair in Cognitive Development at UC Merced. After Gilger arrived at UC Merced in 2011, he began to see the need for an organization and a centralized location that could help engage, guide and inform the community in culturally sensitive ways.
"People would call me — in particular, parents — looking for information and resources," he said. "Parents are very anxious to have this kind of resource."
Locating the center downtown was important for accessibility and also to demonstrate UC Merced's commitment to the area.
"People can see that we are taking what we know out into the community," Gilger said.
The center also will provide space for research efforts related to childhood development and health issues facing families in the region. The Alliance is supported in part by the Carlston Cunningham Family Endowment, First 5 Merced County and other UC Merced funding.
Virtual Center Also Planned
A companion piece to the downtown center is a planned "virtual" center called Help4MyChild (H4MC).
Funded through a grant from First 5 Merced County, H4MC will be a source of information about children facing development issues — particularly young children at risk for intellectual and learning-related difficulties.
Visitors to the site will be able to find information about disorders such as autism, dyslexia and attention deficit hyperactivity disorder (ADHD). The virtual center also will offer a searchable database of regional resources that can give more information, offer screenings or provide treatment.
Erin Lodwick, coordinator of H4MC and the mother of a child with a learning disability,  said the website will be a valuable asset for the community.
"It will be a place to access information about different types of learning disabilities and the services that are available in our community," she said.
Studies show Merced County is at high risk for developmental disorders due to factors such as poverty and premature births. Children who struggle with learning and development can benefit from early identification and intervention.
Parents need the right tools and information to help create the best environments for their children, Lodwick said. She has been a strong advocate for her daughter, who has a learning disability but also is in the Gifted and Talented Education (GATE) program.
Lodwick said it was difficult to find a place where her child could be tested and diagnosed. In addition to providing information about outreach activities and education, the virtual center will allow parents and community members to share and discuss their experiences.
"A lot of the children with learning disabilities are the ones who fall through the cracks," she said.