New IT Director Embraces Challenges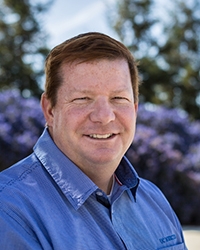 Information Technology's newest hire couldn't have come at a better time.
Just as the campus community bands together to cast a vision for what UC Merced is to become, Jeffrey D. Weekley is settling in to his role as director of Cyberinfrastructure and Research Computing.
Associate Vice Chancellor and Chief Information Officer Ann Kovalchick created the position to support and enable faculty as the campus builds on the Next Gen Network. Charged with creating the necessary systems to support the scientific use of high-performance computing, Weekley brings a wealth of experience in the right areas to get the job done. His efforts will pave the way for faculty to use IT services to further their research.
He has worked as research faculty, developing applications that challenged existing assumptions about IT. He had a front-row seat to the economic revolution that a thriving university brings to a community while serving on the Economic Development Commission of his hometown of Marina (CSU Monterey Bay) — and he's looking forward to paving the way for economic boom here at UC Merced.
"All of the challenges here at UC Merced are the best challenges to have," he told Panorama recently from his temporary office overlooking the construction of Classroom and Office Building 2 (COB2). "I hear a lot about growing pains, but experience has taught me that even painful growth is an exciting process to experience."
At the moment, he's immersed in the construction of world-class visualization capability in COB2 through a partnership with UC San Diego's QualComm Institute (aka Calit2).
The MerWAVE will have 20 4K (3840x2160) displays, driven by a supercomputing cluster. The MerWAVE will be constructed in a half-pipe that provides a window into complex data to allow for faster knowledge discovery, and will serve researchers in all disciplines. He's also assisting in the build-out of the Multi-Environment Research Computer for Exploration and Discovery (MERCED) Cluster , a mid-sized cluster supercomputer used by faculty members across campus.
In between that and surveying campus needs for academic and research computing, Weekley took time to chat with Panorama.
What attracted you to UC Merced?
UC Merced is unique in the UC system, the U.S. and in the world. As the newest American research university, there is a chance to forge a new model of research-coupled education. My position is the only one of its kind in the UC system, and its creation indicates the value put on e-research and e-science at this campus. It is really a big statement about research and education in the 21st century. It's an opportunity I couldn't pass up.
What do you find most rewarding about your job?
Working on a college campus is exhilarating. There is an undeniable energy every time I walk up Scholars Lane. I love working with both students and faculty. They are a fun, opinionated, proud, intelligent, dedicated and entrepreneurial group — and they are young, full of fresh ideas and innovative approaches to address our shared challenges in the future.
What are some of the challenges you face in your role?
I'm building something basically from scratch, which is probably true for many who might read this. This is a very complex area of technology, and my primary job is to simplify access to it, so that it's more useable across a broad base. UC Merced has a chance to punch far above its current weight here, doing things only large, established universities do with regard to research computing.
What projects are you looking forward to in the coming year?
The Pacific Research Platform (PRP) is a five-year, $5 million National Science Foundation program to build a regional data superhighway on the West Coast — and UC Merced is a part of it. This data superhighway will connect researchers to data and their collaborators at unprecedented speeds. It will revolutionize how scientific inquiry is done by extending the reach of the researcher from the lab, the campus, the UC system and beyond. It is going to knock down the barriers researchers face when dealing with big data, supercomputing and collaboration. We are still in the early stages, but this capability will allow us to be highly competitive in seeking grants and research collaborations.
Tell us something interesting about you that people might not know.
I speak five languages. I grew up speaking French and English, and I learned Russian in college. When I was in the U.S. Navy, I went to the Defense Language Institute in Monterey to learn Korean and Spanish. I have lived in New Zealand, Korea, Japan, Spain, Panama, Costa Rica, Turkey, Norway and Ireland and in many places in the U.S. Monterey has been home base for almost 30 years, but I am really excited about living in Merced. I love the mountains and the proximity to Yosemite.
What do you want people to remember about you?
I am here to help. I am deeply passionate about the research and education enterprise. I'm eager to get to learn more about what makes UC Merced great by getting to know the people who are UC Merced.