New Library Exhibits Focus on Research
The UC Merced Library is proud to present two new exhibits showcasing the research of UC Merced scientists.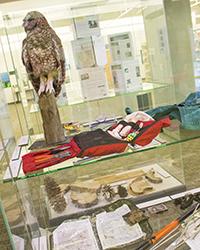 The first exhibit is "SNAMP: Learning to Implement Adaptive Management in the Sierra Nevada".  In this exhibit, viewers can learn about the activities of the Sierra Nevada Adaptive Management Project (SNAMP), which is a joint effort by the University of California, state and federal agencies, and the public to study management of forest lands in the Sierra Nevada. UC Merced faculty members including Roger Bales, Martha Conklin, and Qinghua Guo lead SNAMP science teams to discover the impacts of fuel treatments in forest lands.
The second exhibit is "DLM Lab Tour: Southern Sierra Critical Zone Observatory".  The "Lab Tour" series has developed from an exciting partnership between DLM (Downtown Life Magazine) and the Library in an effort to feature the research of UC Merced laboratories. The first lab in the series, Southern Sierra Critical Zone Observatory, is part of the Sierra Nevada Research Institute. The exhibit spotlights a variety of materials including lab and field equipment, photographs, videos, and interactive displays to bring viewers inside the world of forest and water conservation research.
The SNAMP exhibit is on the second floor of the Leo and Dottie Kolligian Library, and the DLM Lab Tour: CZO content is on the third floor. The exhibits run from July 15-Sept. 20, 2013.
You can read more about both exhibits on the UC Merced website.
For additional information, please contact Robin Milford.