New Online Directory Simplifies Finding Meeting Rooms, Space
You're looking for a room to hold a meeting. It needs to accommodate 10 people and have a wall monitor and an audio/visual hook-up for your laptop so you can show a PowerPoint presentation and video. How many rooms on campus fit the bill? Where are they? Which system do you use to reserve it?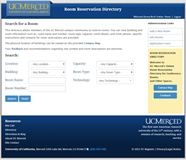 Faculty and staff members tasked with arranging meetings and booking space can now find those answers in one place, thanks to a new online resource.
Searchable Database
The Room Reservation Directory is an inventory of UC Merced's conference rooms, meeting areas, hotel spaces and similar rooms. The database includes key information users need to know when searching for space: which building, the room's location and capacity, and whether it has technology that can connect to your particular devices.
The directory contains photos of different rooms, contact information and links that will take users to the reservation system used to book it. Both indoor and outdoor spaces are listed, such as the Mariposa Lawn and courtyard near The Summits. All available spaces owned or leased by UC Merced — including rooms at Castle, The Promenade, Mondo Building and Fresno Center — are listed.
The project, which was completed over the summer, started after the chancellor's Leadership Council raised the issue of limited space and increased demand for meeting rooms. The group sought solutions to improve room scheduling. With that as a goal, UC Merced's Space Advisory Committee was tasked with investigating how to make the process easier. The committee appointed a workgroup led by campus Ombuds De Acker and Assistant Vice Chancellor John White to develop a one-stop room repository.
Collaborative Effort
The initial workgroup included volunteers from divisions and departments across the campus: Office of the Chancellor, Academic Senate, the three academic schools, the UC Merced Library, Facilities Management, Planning and Budget, Business and Financial Services, Student Affairs, the Registrar, Information Technology and University Communications.
Participants studied the campus's existing practices and what worked best at other universities. The workgroup's findings resulted in a published report that identified more than 150 rooms in 17 buildings available for scheduling and listed several recommendations to make room scheduling more consistent across campus. Creation of the room directory met many of their suggestions. 
Now that the site is live, a Room Reservation Directory Team will monitor site users' feedback and share that information with Information Technology and Facilities Management, the units that will update and maintain the database. That directory team is led by Mayra Chavez in the Academic Senate office, Rhonda Pate in the School of Social Sciences, Humanities and Arts and Christine Yap in Business and Financial Services.