New Publication Day, Changes for Panorama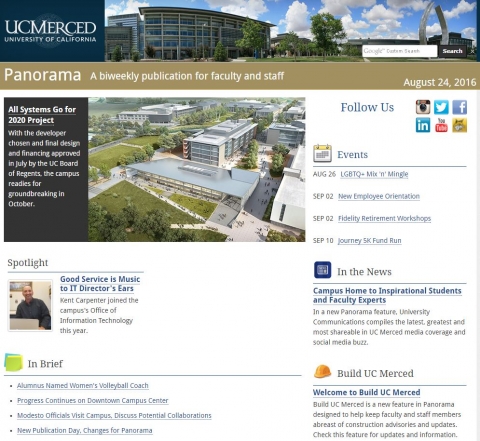 Greetings and welcome to Panorama, the biweekly electronic newsletter for faculty and staff members, produced during each academic year by University Communications.
As we kick off an exciting new year at UC Merced, we are pleased to inform you of some changes and new features.
First and foremost, you'll notice Panorama's publication day has moved from Friday to Wednesday. Our goal is to provide readers with the timeliest news, updates and information earlier in the week.
This semester, we're also launching three new standing features:
Build UC Merced — As construction on the campus's 2020 Project gets underway this fall, this feature will keep faculty and staff members informed of construction-related advisories and updates that may affect the campus.
In the News — This item highlights recent news articles and social media featuring UC Merced.
Communications Connection — This occasional feature, written by communications staff members, will offer resources, tips and best practices to assist faculty and staff members with writing, photography, media relations, graphic and web design, videography and social media needs.
We hope you find these new features informative and helpful. Meanwhile, we want to hear your thoughts about Panorama. What kinds of stories would you like to see? Do you have specific story ideas? Let us know!
Feel free to share your ideas or opinions by emailing University Communications. Follow the link below for this semester's publication schedule.