New Series Aims to 'Discover' UC Merced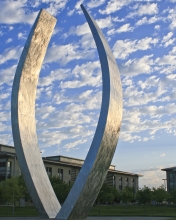 Let's face it, there are still a lot of people who don't know UC Merced.
One of the key messages University Communications works to convey to the public — including potential students and their families and potential faculty members 
— 
is that UC Merced is a unique and special place.
That's why Communications created the "Discover UC Merced" film series. Each "Discover" is a short film in which a campus community member talks about the effects UC Merced is having in his or her life, and the legacies he or she is leaving for the campus.
The first three debuted, and the first one made, "Discover UC Merced: Nick Fong," won an award this year from the Council for the Advancement and Support of Education (
read the story
in this issue of Panorama).
Communications invites you to enjoy these three short films and stay tuned for more. If you would like to suggest faculty members or students who have compelling stories to tell, please email Senior Public Information Representative
Lorena Anderson
.