New Site Provides Assistance in Case of Sexual Violence and Harassment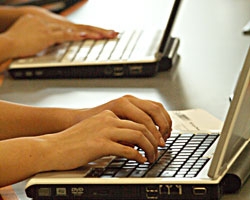 UC Merced highly values the safety of its students and staff and faculty members and is committed to keeping our campus free of all forms of harassment, sexual violence and discrimination.
We want all members of the campus community to feel safe, secure, welcomed and supported.
As part of this commitment, the campus's Title IX office has launched a discrimination and sexual violence prevention website. This site provides information about sexual harassment, sexual violence, discrimination and related resources for all campus community members. It also provides information for people who want to file complaints about sexual violence, harassment or discrimination.
The campus's Sexual Harassment and Sexual Violence Policy, as well as the Student Code of Conduct, prohibit all forms of sexual harassment and sexual violence, including assault, dating violence or domestic violence and stalking. Additionally, California law prohibits acts of sexual assault, dating violence or domestic violence and stalking — these acts are crimes.
UC Merced is part of a University of California system-wide effort to provide education, prevention and response to the issues of sexual assault, relationship violence and stalking.
The university has issued a revised Sexual Harassment and Sexual Violence Policy in response to President Obama signing into law the Violence Against Women Reauthorization Act of 2013 (VAWA). The VAWA requires that educational institutions comply with specific regulations when responding to incidents of domestic violence, dating violence, sexual assault and stalking.
The preferred way to submit a complaint is to submit to our campus Title IX Officer Wendy Smith. This can be done by using the discrimination/harassment complaint form, which can be easily accessed online at dsvp.ucmerced.edu, or via email to wsmith4@ucmerced.edu.