New SSHA Dean Inspired by Campus's Innovative Spirit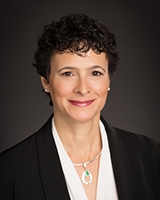 With two decades of experience at prominent American research universities, Jill Robbins has a good feel for what works and what doesn't in academia. That's partly because change comes so slowly to most established institutions — which is exactly what drew her to UC Merced.
As the new dean of the School of Social Sciences, Humanities and Arts (SSHA), Robbins said she is excited by the opportunity to continue the growth and development of a university that has embraced change and thrived on novel approaches to higher education and research.
"I am thrilled to be joining the leadership team at UC Merced as it enters its second decade of operation and begins to sharpen its academic focus in the years ahead," Robbins said. "I look forward to working closely with the distinguished faculty in SSHA to make our contributions stand out and achieve distinction for the campus as a whole."
Robbins arrived at UC Merced in January after spending the past eight years at the University of Texas at Austin, where she chaired the Department of Spanish and Portuguese since 2010. She was a member of the Spanish faculty at UC Irvine from 1997 to 2007 and served as associate dean for undergraduate studies in UCI's School of Humanities from 2004 to 2007.
She is also widely published as an author, editor and contributor in a wide range of peer-reviewed books and articles in her fields of research: contemporary Spanish poetry, trans-Atlantic studies, globalization and migration, cultural issues, and studies in gender, sexuality, violence and memory.
Robbins recently took time out of her busy schedule to answer some questions for Panorama:
What is your vision for the School of Social Sciences, Humanities and Arts?
The dedicated and talented SSHA faculty and staff have created a unique identity for the school, based on a combination of interdisciplinary practices and a dedication to both our local communities and global issues.
The task of bringing together our research, teaching and disciplinary aspirations, however, has naturally become more complex in the context of the 2020 Project. My role, as I see it, is to safeguard and strengthen those foundational values while helping us to grow strategically in line with the broader mission of UC Merced.
I also believe it is important for us to enhance the balance among the three components of SSHA — social sciences, humanities and arts, and I am deeply committed to promoting and supporting diversity across the school.
What do you plan to do to make that vision a reality?
I have already begun to engage colleagues — both individually and in groups — in discussions regarding strategic planning and diversity, which should inform our thinking about every aspect of our professional lives at the university. That includes research collaboration, curriculum development, pedagogy, hiring, staff development, assessment and the configuration of our working spaces.
I will continue to take advantage of every opportunity to meet with faculty members to discuss best practices here on campus and elsewhere, and to work together with them on developing innovative ways to tie the future of their units both to the broader mission of the university and to emerging trends in their various and often interconnected fields. 
What attracted you to UC Merced?
What brought me to UC Merced is the commitment at an institutional level — from the university's very foundation — to a singularly dynamic model of collaborative research and teaching across traditional disciplinary boundaries. I wanted to join the conversation about the future of the American university that is taking place here now, with UC Merced poised to become the model for incredible innovation in the finest public university system in the world.
Equally important to me is our dedication to improving the lives of the people of the Central Valley, from our research on issues fundamental to their well being to their educational experience in our classrooms, studios and laboratories. 
What research themes or collaborations would you like to see developed or enhanced?
I have already heard of many exciting projects in the works that draw on common interests among faculty members not only in SSHA, but across the campus. Many of these initiatives focus on questions of race, gender, sustainability, social justice, public health, cognition, geographical regions and the like.
Often lost in these conversations, however, are the arts — and particularly the performing arts, which have so many roles to play in relation to these themes. I want put more of the "A" back in SSHA.
Do you plan to keep researching while dean? If so, what kind of research do you plan to do?
Yes, of course! I spent the fall semester completing the initial draft of a book, tentatively titled "Madrid 11-M: Poetry and Remembrance," which was a research project supported by the National Endowment for the Humanities. The title refers to the train bombings in Madrid on March 11, 2004, which has been described as the first major jihadist attack on the West after 9/11. As individuals affected by the attacks — along with Spanish society as a whole — have attempted to process the various memories and conflicts that 11-M brought to the surface, poetry has played a vital role.
My book looks at the various social, political and personal roles of poetry, beginning with the texts left at the spontaneous shrines erected at the bombing sites and in other memory sites in the city and on the Internet. I also look at the performance of lyric in a variety of song genres including flamenco and hip-hop, the relationship between poetry and memory, and the uses of poetry in therapy for the victims of traumatic events.
What are your top priorities for your first semester?
I have a lot to learn, so I will be doing a lot of listening this semester!