No "Butts" About it: UC Merced to go Smoke and Tobacco Free in 2014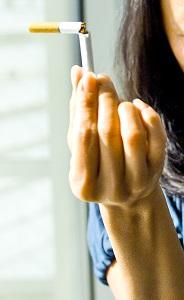 Faculty, staff, students and visitors at UC Merced will breathe easier come Jan. 1 when the campus becomes one of the more than 1,100 colleges and universities nationwide to implement a smoke- and tobacco-free environment.
All University of California campuses and institutions are going smoke and tobacco free as a result of a mandate issued by President Mark Yudof in January 2012. At UC Merced, the smoke- and tobacco-free policy will prohibit the use of cigarettes, electronic cigarettes, cigars, chewing tobacco and all other tobacco products on university-owned or leased property. The policy also prohibits the sale of tobacco products on campus and tobacco-related advertisements, except in non-university newspapers, magazines or other written materials sold, bought or distributed on campus.
"UC Merced is proud to join our sister campuses and institutions, along with the many other organizations across the nation in adopting and encouraging a smoke- and tobacco-free environment," said Kristin Hlubick, UC Merced's health promotions coordinator and chair of the campus' Smoke and Tobacco Free Environment Steering Committee, which was tasked with implementing the policy.
"Tobacco use and exposure to second-hand smoke remain the leading causes of preventable disease and death worldwide," Hlubik said. "By adopting this policy, we can assist in reducing those outcomes. And, with air quality being a significant concern in the San Joaquin Valley, it is fitting that UC Merced take measures that will enhance our physical environment and improve the quality of life of our students, faculty, staff, visitors and the surrounding community."
Policy Guided by Mandate
Although campuses have control over how each implements the policy, prohibited items and activities are directed by the mandate and cannot be changed. Compliance is expected of all individuals when on campus-owned or leased property, which includes all parking lots, pathways, sidewalks, roads and open spaces within UC boundaries.
As the campus institutes the policy, the main emphasis will be on education and cessation assistance. Enforcement will be grounded in informing and educating violators about the policy. Noncompliant and repeat violators who are faculty, staff or students are subject to corrective action under Human Resources and Academic Personnel policies and procedures, the Student Code of Conduct or other applicable university regulations. Campus visitors who do not comply may be asked to leave the premises.
"The policy does not require smokers to quit, but they do need to understand that they can't smoke at UC Merced," Hlubick said. "However, we're here to support those who may need assistance in finding solutions to help them manage in any way we can."
New Website, Cessation Resources Available
A new website informs people of the policy, what it entails and other pertinent information. The site also includes frequently asked questions related to this initiative and a list of free and low-cost cessation resources. Campus community members are invited to review the draft policy and submit comments by Oct. 4. The policy will be finalized in November.
"It's important to be tobacco free not only for the health of smokers but for those affected by secondhand smoke and cigarette butt litter," Hlubik said. "Once people realize that they can enjoy life without needing to be around tobacco, it changes the overall environment."
Although the systemwide mandate requires all UC campuses and organizations to implement their smoke- and tobacco-free policy by January 2014, a number are already doing so. All five UC medical centers are already smoke and tobacco free and two campuses, UCLA and UC San Diego, implemented their policies earlier this year.
UC Merced's campus housing got a head start as well. The residence halls became smoke and tobacco free in August, in time for Move-In Day. Designated smoking areas and ash receptacles were removed, and students planning to live on campus received notification of the new restrictions before their arrival.
As UC Merced's launch date gets closer, faculty, staff and students can expect to see more information, education and outreach efforts. The Office of the President is developing a number of videos campuses can use and link to in order to help people engage in respectful conversations about the policy and compliance. Plans are also under development to launch a related informational campaign and contest in November to coincide with the Great American Smokeout.
In the meantime, comments and feedback regarding the policy can be sent to the Smoke and Tobacco Free Steering committee at smokefree@ucmerced.edu.