Office of Planning and Budget Vice Chancellor Daniel Feitelberg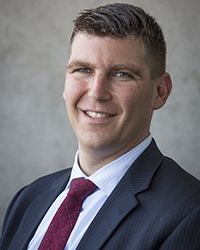 It is my pleasure to update you on our ongoing work to add academic, research, parking and student life facilities through the 2020 Project.
As was announced in January, student demand for enrollment at UC Merced and in the UC system is at an all-time high.
The goal of the 2020 Project is to build new facilities on our campus to meet our current needs, and to accommodate 10,000 students by 2020 in the most rapid and cost-effective way. We also want to grow in a way that creates a sense of community and connects our programs to their place.
Three Teams Selected for 2020 Project Competition
One of the project's most exciting elements is that it will be delivered as an integrated, master-planned project by a single team of design and construction professionals chosen though a competitive process.
Last fall, six world-class teams expressed interest in competing for the right to design and deliver these buildings. The teams included representation from 84 national and international master planning, design, architecture, construction management and equity firms. In December, after a comprehensive review process, the Project Selection Committee narrowed the applicants to a three-team "short list" eligible to move to the next stage.
In March, Chancellor Leland will update the Board of Regents about the campus and the progress we have made on planning for the 2020 Project.
The shortlisted teams will begin a rigorous, multi-month competition to develop approximately 1 million assignable square feet for new teaching and research, housing, student life, recreation and parking space, along with associated infrastructure. Their proposals will be based on detailed performance and program criteria informed by feedback we have received from students, faculty members and staff members during the past 18 months.
Selection in 2016
The campus expects to select a team in 2016 and begin construction shortly thereafter.
The area of proposed construction for the 2020 Project extends south from Scholars Lane to Bellevue Road and eastward to the campus solar array, and will expand the size of UC Merced from 104 acres to approximately 220 acres.
When the 2020 Project is complete, we will be well positioned to continue our teaching, research and public service mission, support enrollment growth and continue being a model for sustainable development.
Staying Connected
As we continue through the competitive request-for-proposals process, I encourage you to visit the 2020 Project website to stay abreast of the latest developments. Inquiries and questions about the 2020 Project can also be sent to ucmerced2020@ucmerced.edu.
Updates on the 2020 Project will also be open to the campus community during regularly scheduled Campus Physical Planning Committee (CPPC) meetings.
The 2020 Project team is also open to providing a brief update to your staff or organizational group about the project. If you are interested, please email ucmerced2020@ucmerced.edu.
Twenty years ago this spring, the Board of Regents made the historic decision to select Merced as the location for the UC's 10th campus. Now, as we approach UC Merced's second decade of operation, the 2020 Project offers an opportunity to reinforce Merced's place as a community of scholars within a sustainable and technologically-advanced environment that serves the academy, students and staff.
I look forward to keeping you updated as we move forward.