Open Enrollment 2014 Sees Changes to Medical Plans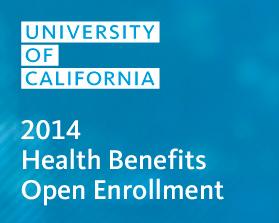 When open enrollment begins at 8 a.m. Oct. 28, faculty and staff members will see some notable changes to the medical plans offered in 2014.
Most University of California employees will see only small increases in monthly premiums for medical insurance next year and some people's rates will go down, a marked departure from the pattern of price increases in recent years. The most significant news is the UC is adding two new medical plans and discontinuing four plans.
UC decided to discontinue the four plans because they are on track for continued sharp price increases and no longer offer the right value.
"Our goal was to provide UC employees with the best and most cost-effective medical insurance options available," said Dwaine Duckett, vice president for systemwide human resources. "We've done that by eliminating plans that were headed for big price increases, doubling down on plans that are the most popular with our employees and offer good value."
The two new plans, UC Care and Blue Shield Health Savings Plan, control costs and are tailored specifically to the needs of faculty and staff members. The UC Care plan provides access to UC medical centers and doctors. UC Care includes a PPO (preferred provider organization) that offers a broad network of doctors. The Blue Shield Health Savings Plan is a high-deductible PPO paired with a tax-advantaged health savings account. 
The four plans being discontinued are: 
Anthem Blue Cross PPO
Anthem Blue Cross PLUS 

Anthem Lumenos PPO with HRA 

Health Net Full Network HMO 
Health Net Blue & Gold, Kaiser Permanente, Western Health Advantage and Core catastrophic plans will remain available. 
In addition to information online, more assistance will be offered to employees to help them figure out and maneuver the coming changes. All UC campuses are hosting medical-plan town-hall meetings in October.
"We'll let people know what the changes are and will help guide them in any way we can," said Joanne Dunlap, UC Merced's assistant vice chancellor for Human Resources.  
Human Resources staff from the Office of the President will be in attendance, along with local HR benefits staff and Staff Assembly. 
UC Merced's town hall will be held Oct. 25 in the new Student Services Building, Room 170. Human Resources staff from the Office of the President will be in attendance, along with local HR benefits staff and Staff Assembly. This will be an opportunity to learn more about the medical plan choices and to ask questions of the presenters. Town hall meeting times are as follows: 
10:30-11:30 a.m. 

2-3 p.m. 

4-5 p.m.
Although UC Merced's town hall meetings cannot be recorded or live streamed via the web for employees who aren't able to attend in person, UC Berkeley's town hall held earlier this week is available for viewing. Medical plan information is the same systemwide.   
Additional information sessions will be held on campus and at offsite locations in November. Watch for UC Announcements emails and the UC Merced benefits website for specific dates, times and locations.
Faculty and staff members can also get information at UC Merced's Open Enrollment Benefits Fair from 10 a.m. to 2 p.m. 
Nov. 18
in the California Room. Vendors will be there to answer questions, and attendees can take advantage of free blood pressure and cholesterol screenings and enjoy a free massage.
Dunlap suggests employees review all the benefits materials sent to their mailing addresses, as well as the information on the
medical plans website
. 
If having a certain doctor is your primary concern, then you'll want to find a plan that your doctor is contracted with. If money is the main concern, look at the premium costs and choose the plan that works best for your budget and needs.
Even if you're not affected by the medical plan changes, open enrollment is a good time to review all of your benefits, plan changes for the coming year, and make sure your basic information, such as your mailing address on record or beneficiaries, is up to date. Employees who want to enroll or re-enroll in a flexible spending account for dependent care or health care for the 2014 plan year must do so during open enrollment.
Dunlap added that those thinking of retiring next year should attend the benefits fair, "to look ahead at the retiree health plans offered" in 2014. 
Open enrollment starts at 8 a.m. on Oct. 28 and ends at 5 p.m. on Nov. 26. 
If you have questions regarding your benefits or open enrollment, please email the 
UC Merced Benefits office
 or call extension 2363.