Open Enrollment Starts Oct. 29, Benefits Fair on Nov. 8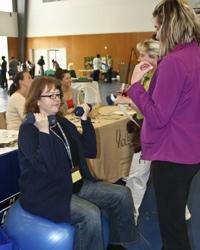 Mark your calendars: The University of California's Open Enrollment period begins Monday, Oct. 29, at 8 a.m. and ends Nov. 20 at 5 p.m. Meanwhile, the Open Enrollment Benefits Fair for Faculty and Staff will be held on Thursday, Nov. 8, in the California Room from 10 a.m. to 2 p.m.
Even if you don't plan to switch insurance plans, the Open Enrollment period is a good time to review your benefits, the plan changes for next year and basic information such as your address on record or your beneficiaries' addresses.
Although there aren't many changes this year, there are several worth noting:
For the HMO medical plans and the Anthem Blue Cross PLUS plans, some copayments for services will increase beginning Jan. 1, 2013.  For example, doctor visits will cost $5 more and emergency room visits are increasing by $25.  UC last increased copayments in 2006, and since then the full cost of doctor visits has increased about $50.
Copayments for brand name and non-formulary prescription drugs are also increasing by $5 for all plans that charge a copay. Generic prescription drug copayments are not changing.
Women's preventive services will be offered at no charge in 2013.  These include well-woman visits, FDA-approved contraception methods and counseling, breastfeeding support and supplies and more.
The Health Net Blue & Gold network is changing, with new medical groups joining and some medical groups leaving the network.  Check the Health Net doctor directory to see if your doctor or medical group has joined or left the network.
If you're in the Health Net HMO or Anthem Blue Cross PPO, you may want to consider either Health Net Blue & Gold or the Anthem Lumenos PPO with HRA.  Both have substantially lower premiums with benefits similar to the Health Net HMO and Anthem Blue Cross PPO. You'll find information comparing these plans in your Open Enrollment booklet.

The ARAG Legal Plan is open for enrollment this year.

The maximum amount you can contribute to the Health FSA is reduced to $2,500; enroll or re-enroll in the Health FSA and/or the Dependent Care FSA during Open Enrollment.
Each employee should have received an Open Enrollment booklet at his or her home address. The Open Enrollment website is now available. If you have questions, contact UC Merced's Benefits office at 209-228-2363 or email benefits@ucmerced.edu.