Organizers Hail 2016 United Way Campaign a Success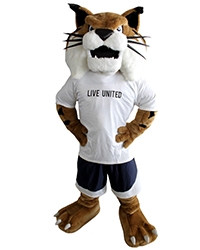 The results are in: UC Merced's 2016 United Way Campaign was a big success — both in the number of participants involved and the amount of donations received.
During a thank you luncheon held this week (March 29), organizers announced this year's campaign saw a 20 percent increase in employee payroll deductions compared to the previous year. Campaign co-chairs Sonia Johnston and Kim Garner lauded campus community members' overall efforts to raise awareness and support for the critical services and resources provided by the United Way of Merced County.
Organizers acknowledged the many activities that supported the 2016 campaign, which ran from mid-January through Feb. 29. Three departments — Facilities Management, the Administrative Coordination Team and the UC Merced Police Department — received special recognition for hosting a variety of fundraisers that included bake sales, pizza parties, candy sales and more, which increased the amount of donations received and expanded campuswide participation.
A number of individuals also were recognized, with more than a dozen faculty and staff members awarded prizes for earning the most participation points.
Another goal met during this year's campaign was the successful inclusion of UC Merced students.
"We were able to reach out to students through social media and by tabling to educate them about United Way — from highlighting opportunities to volunteer to telling them about the agency's new 211 telephone resource," said campaign Coordinator Bernadette Mello.
Students were also instrumental in updating the campaign website and using social media to get the word out and promote events.
"As our campus continues to grow, so should the connection between our students and the greater Merced community," said co-chair Johnston. "Getting and keeping students engaged will help to make a much-needed difference in supporting the United Way and UC Merced's mission of public service."
Other highlights from the 2016 United Way Campaign:
Nearly 1,000 See's Candies sold with proceeds going to the United Way;
More than $3,000 raised through various events and cash donations; and
Financial support and product donations from local sponsors including Kellogg's Supply, Playhouse Merced, Merced Fruit Barn, Image Masters, Starbucks and Wal-Mart.
UC Merced has managed an annual campaign to raise funds for the United Way of Merced County since 2001. Through fun events and creative ways to give, UC Merced's United Way Campaign strives to increase awareness and support for the needs of others.