Ph.D. Student Beats Odds to Put Science and Community First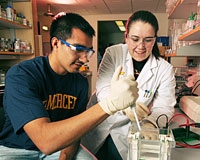 The odds were stacked against Ruben Rodriguez. When the 27-year-old UC Merced student was still in high school, he was confronted with a sobering statistic that indicates Hispanics receive only 5 percent of all doctorates awarded.
"That's always stayed with me," said Rodriguez, who was born in Mexico and came to the United States when he was 9.
During his senior year in high school, he missed the application deadline for the University California. UC Merced extended its deadline and his English teacher insisted he apply, making it part of his homework.
It worked out for Rodriguez.
He was one of the university's first undergraduates, matriculating in 2010. Now he's working toward his doctorate in Quantitative and Systems Biology, where he's researching the molecular causes of obesity and diabetes.
"I've been lucky," he said. "I've had a lot of great mentors who gave me good advice and pushed me to excel. I wouldn't be here without them."
Faculty members such as Professor Rudy Ortiz have been especially influential. While taking one of Ortiz's nutrition classes, Rodriguez was asked to help with research in his lab, which fueled his interest in studying obesity.
As an undergrad, Rodriguez wrote and published a paper on the health and diets of high school students, monitoring things like the body mass index, blood pressure and eating activities of students at several schools in Merced County.
During his time as an undergraduate and graduate student at UC Merced, Rodriguez has attended numerous conferences. He's also traveled to Japan to research the effects of hormones on cardiovascular and renal diseases.
Some of Rodriguez's research in diabetes and obesity has taken on deeper meaning, as it relates to the primarily Hispanic and Hmong populations in the San Joaquin Valley. His mother is diabetic, as well.
Most of all, though, Rodriguez sees himself as a potential influence for other Hispanic students to not only go to college, but engage in the sciences. With Ortiz's help, he helped establish the UC Merced chapter of the Society for Advancement of Hispanics/Chicanos and Native Americans in Science.
"Ultimately, I like helping people," he said, adding that he hopes to inspire students the same way he was inspired by his own professors. "Getting a Ph.D. is the best path to take for that. I can teach and research and help people through my discoveries."