Professor's Design Could Win $50,000 Grant
A UC Merced professor is one of five finalists in a national challenge that could win him a $50,000 research grant and free access to a record-setting, ocean-going robot.
Professor Michael Beman, with the School of Natural Sciences, entered the PacX Challenge, a competition designed to encourage scientists and students to make use of data gathered by autonomous wave glider that just completed a 9,000-nautical-mile journey across the Pacific Ocean.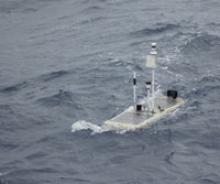 The contestants will use data gathered by the glider, called the "Papa Mau," which traveled autonomously from San Francisco to Australia over the past year. Papa Mau finished its year-long journey on Dec. 6 in Australia, setting a world record for the longest distance traveled by an autonomous vehicle.  The wave glider "Benjamin" is also traveling to Australia, while the "Piccard Maru" and "Fontaine Maru" are on their way to Japan. 
Beman and his four competitors will complete their proposed research projects over the next six months. If Beman wins, he gets to use a wave glider at no cost for another six months to conduct his own research, and he gets a $50,000 research grant.
"If I win, this would have a strong multiplier effect on my research, because I could use the grant to financially support students and staff and their research," Beman said. "I'd incorporate the wave glider time into my current research projects and those that I'm developing, so it would add new, novel and complimentary data to my research."
Beman, who studies biogeochemistry, microbial ecology, oceanography and global environmental change, is competing against researchers from UC Santa Cruz, University of Texas, and Scripps Institution of Oceanography, and a software developer from Boston. A UC Merced Ph.D. student, Jesse Wilson, will be heavily involved in the project, which both have already started working on. Research proposals came from around the world, and the winner should be announced in the fall.
Because the competition is ongoing, Beman declined to be specific about the research proposal that earned him a spot in the final five.
"These scientists will conduct research into some of the world's most challenging ocean issues ranging from measuring the ocean's health and respiration to studying the ocean's biomass - the most fundamental organisms critical to ocean life," said Luke Beatman, oceanographer at Liquid Robotics, the Sunnyvale company that developed the wave glider. Beatman is also chairman of the PacX Science Board.
The data Papa Mau gathered as it weathered storms, fended off sharks, traveled through a 1200-mile algae bloom and skirted the Great Barrier Reef is free and available to anyone now. There are three other wave gliders still at sea  should dock early in the new year.
They collect and transmit ocean data in real-time, the company said, enabling game changing scientific discoveries to help us address some of the world's biggest challenges, such as global climate change, national security, hurricane and tsunami warning, and offshore energy and resource management.