Professor Awarded National Grant for Research on Moroccan Literature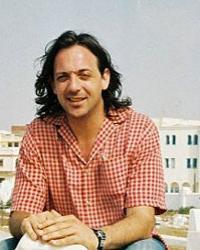 University of California, Merced, literature Professor Cristián H. Ricci has received a prestigious National Endowment for the Humanities award to write an in-depth analysis of Moroccan literature.
The research project, "Moroccan Literature and the Broadening of Postcolonial Literary Studies," is one of the very few comparative studies to bring together four of Morocco's major national and diasporic writings for a transcontinental audience.
Ricci plans to do an in-depth analysis of Moroccan literature with a thorough look at the conditions of its production in four European countries: Spain, France, Belgium and Holland.
Ricci was one of eight faculty members to receive the NEH's 2013 Awards for Faculty research grants. This is just another example of how UC Merced's world-class researchers are creating new knowledge that helps society better understand itself.
"For too long, North African/Maghribi literature has been understudied," Ricci said. "This grant will help highlight the great work of Morrocan writers living in four different European countries and contribute to a better understanding of this literature."
The award will allow Ricci to spend a year conducting research in Barcelona, Paris, Brussels and Amsterdam, and write the first chapters of his new book, which will contribute to the reshaping of European studies in universities of the United States, Holland, England, France and Germany.
Ricci's goals in writing this book include giving readers a new view of the different methodological schools and theories undertaken by the major scholars in the field of migration and borderland studies. He also hopes it will validate modern research orientations to the intercultural relationships between the African and European worlds.
The project is similar to efforts by other researchers who are exploring Asian cultures in the Americas. Ricci sees his work encouraging scholars to conduct research into 19th century Filipino literature in Spanish, as well as in emergent diasporic literatures such as those by Tunisian, Algerian, Sub-Saharan and Latin American authors who write about their intercultural experiences in Europe.
The National Endowment for the Humanities is one of the largest funders of humanities programs in the United States. The endowment awards grants for top-rated proposals examined by panels of independent, external reviewers.
Ricci's research will also benefit the student community of the University of California, Merced. The literature of minorities in the Southwestern states presents similar characteristics to the Maghrebi and Sub-Saharan literatures written in European languages. Because of this, UC Merced's literature curriculum, which includes a comparative studies program, will benefit from Ricci's scholarly findings. UC Merced students will be given the chance to compare the migrant experience of Latinos in the United States with that of Africans in Europe.