Professor Jennifer Lu Studies the Small Stuff
Note: Instead of Spotlight, this issue of Panorama features a profile of Professor Jennifer Lu, which originally appeared in the Fall 2014 issue of UC Merced Magazine.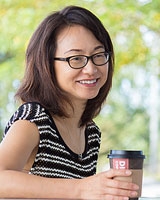 It's a sunny morning as Professor Jennifer Lu sits in the patio outside the Leo and Dottie Kolligian Library, her fingers moving quickly across her smartphone's keyboard.
Lu, with the School of Engineering, talks about science with excitement. In fact, she's enthusiastic about many topics.
"I advise my students to work hard, not waste time and to find something they're passionate about," Lu said. "And, if you don't have a passion, fake it until you make it. Sometimes it takes time to find what suits you."  
'Everything starts with materials' 
Lu discovered science in college and specializes in novel nanomaterial design, synthesis and characterization.
"My research has components of science and engineering," Lu said. "Everything starts with materials. How do we manipulate molecular and nanoscale arrangements to create man-made materials that have the properties that are not offered by nature?"
That question is at the heart of her research.
Lu's research group is working on materials that enable the conversion of energy from one form to another, which is key to a wide variety of applications in life science, energy storage, energy conversion and machine intelligence.
One of the team's projects involved generating materials that respond to low-energy light or room-temperature fluctuations.
'Novel and groundbreaking'
When she joined UC Merced, she had developed the basic concept for a new material, work she started during her undergraduate studies.
"There was a molecule that I found interesting during my graduate studies at the University of Michigan," she said. "I wanted to do some synthesis of it, but at the time, didn't have the needed infrastructure and resources to do it."
But Lu decided to keep at it.
In 2010, her research group demonstrated how a new, soft material based on the molecule deformed in response to infrared light – a lower-energy and less-damaging trigger than the ultraviolet light that is usually used.
Lu collaborated with UC Merced colleagues Professor Erin Johnson, a theoretical chemist, and Professor Christopher Viney, an established materials scientist, to propose a new switching unit. In 2013, the scientists and Lu's graduate student, Xingyuan "Alex" Shen, shared their findings in a paper published in Nature's Chemistry. Peers described the group's work as "novel and groundbreaking."
The experience showed her that persistence pays off.
"You have to just keep trying," she said. "The experience will help you to appreciate the value of endurance and stamina. It will help you gain self-confidence and you will prove to yourself that yes, I can do it."
Love of Science Developed in College
Raised in Shanghai, she was the younger of two daughters. Her father was an information technologist and her mother a materials scientist. But Lu's venture into science wasn't predetermined.
"I was supposed to pursue music or gymnastics," Lu said.
She started playing the violin at age 6. While she developed a deep appreciation for music that continues today, it wasn't her true calling. She also trained for rhythm gymnastics, but her body wasn't quite right for that line of work, she said.
In her later undergraduate years, Lu discovered science.
"I inherited my curiosity from my father and my tenacity from my mother," she said. "Science suits me. In fact, science can help you be a good photographer, or a great chef or a wine maker. Science will help you better appreciate life."
Lu's love of challenges led her to UC Merced.
"I was fascinated at the thought of working at a new university," she said. "There was only one new, start-up research university on the whole planet, and I wanted to go where I could make a big impact, so I chose UC Merced."  
She enjoys being a mentor and teacher to students. When she's not in the lab or teaching, she likes music, museums and cooking — from French, Mediterranean and Spanish cuisine to Indian and Mexican fare. She also enjoys traveling and yoga.
When asked where she sees herself in the next five years, Lu doesn't miss a beat.
"I hope to be making more contributions to the scientific word," she said. "I can be a more mature and effective scientist, teacher and mentor."