Professor Recounts Lost History of Migrant Workers in New Book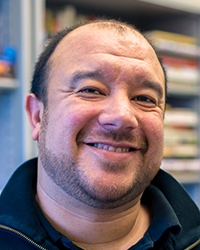 When UC Merced Professor Mario Sifuentez was a graduate student, he didn't have to look far to find a subject to research — members of his family had been migrant workers in Oregon for many years, but he could find very few texts documenting how such workers got there and what their lives were like.
So he began conducting interviews and uncovering those stories himself. The result is Sifuentez's new book, "Of Forests and Fields: Mexican Labor in the Pacific Northwest," which was published in March.
"I knew what was going to keep me in graduate school was writing about something I really cared about," he said.
Sifuentez's book focuses on what brought these workers to the region, how the local communities reacted, and how the workers fought for acceptance and fair treatment.
During the course of about 160 interviews conducted over five years, Sifuentez discovered that the story started with the Bracero Program, an agreement that brought workers to the U.S. from Mexico between the 1940s and 1960s to address labor shortage concerns. These workers became the backbone of labor in agriculture, reforestation and nursery work in the Pacific Northwest, culturally diversifying a traditionally white population.
Locals, however, were not always tolerant of the workers, often accepting their labor but rejecting the cultural changes that came with it. Workers began to fight back against discrimination and exploitation, and in 1985, Pineros y Campesinos Unidos Noroeste (PCUN) — Northwest Treeplanters and Farmworkers United — was formed. Many improvements in wages, housing and treatment were made as a result, and PCUN continues to successfully represent migrant workers today.
As Sifuentez uncovered these struggles in his interviews, he often found that the descendants of these workers were unaware of their history. In fact, speaking to his own family members uncovered relatives who had lived and died as migrant workers in Oregon but whom he had never known existed.
He realized that much of history was buried in personal memories rather than archives, and uncovering it was as easy as starting the conversation.
"Your grandparents were a big part of history, but most people don't ask them about this stuff," he said. "Everyday people make history."
Sifuentez, a professor of history in the School of Social Sciences, Humanities and Arts, said this was the biggest lesson he learned while writing "Of Forests and Fields" and one he wanted to share with others, particularly students.
He said he came to UC Merced because he recognized he could make a difference with a student body that reflected his own experiences growing up. The book became a way for him to show that anyone underrepresented by history could take the story into their own hands.
"Just because it's not in a book doesn't mean it's not there," he said.