Professor's Book Challenges Notions of Japanese Peruvian Identity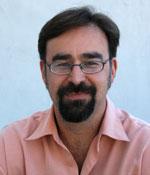 In his new book, "The Affinity of the Eye: Writing Nikkei in Peru," UC Merced Professor Ignacio López-Calvo uses politics and literature to provide one of the first comprehensive looks at how the Japanese assimilated and inserted themselves into Peruvian culture.
The book, published in March 2013 by University of Arizona Press, uses contemporary writers' testimonies, essays, fiction and poetry to construct an account of the cultural formation of Japanese migrant communities.
With interviews and comments, López portrays the difficulties of being a Japanese Peruvian. Despite a few notable examples, Asian Peruvians have been excluded from a sense of belonging or national identity in Peru, which provides López-Calvo with the opportunity to record what the community says about its own cultural production.