Project Director Can't Wait for UC Merced's 'Teenage Phase'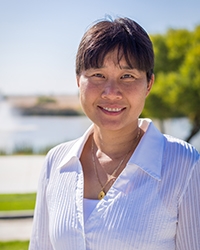 UC Merced is approaching its 10th anniversary, and there are still many faculty and staff members who can say they were here from the beginning. Some even worked to help UC Merced reach that beginning. But not many can claim they helped bring Beginnings to campus.
Min Jiang, a project director with UC Merced Design and Construction, did just that when she managed the now-iconic statue's arrival on campus and its installation in the quad in 2009. Beginnings is just one of many projects Jiang has managed since she arrived at UC Merced in 2002, a full three years before the university opened for classes Sept. 5, 2005.
It's impossible to walk around campus without encountering a construction project Jiang has managed. From the Marketplace and Lantern Café to the Bobcat Statue and the Little Lake Amphitheater, her fingerprints are everywhere.  
"It's not often a person gets the opportunity to be part of a team that plans, designs and opens a university campus, and then stay to see it grow," Jiang said. "For me, call it luck, honor, pride and love."
Before she joined UC Merced, Jiang worked for seven years in a similar position at California State University, Stanislaus. There, she managed several major construction and renovation projects, and many of the facilities and water features she worked on have become popular spots for weddings and community events.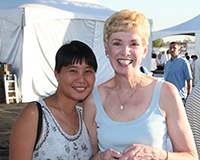 Like many who joined UC Merced in the early years, Jiang was drawn by the chance to build something new. She has done that both literally and figuratively — and as the campus begins its second decade, she's looking forward to all the ups and downs that come with growing up.
"I think the next 10 years will bring all the fun, fear, challenges and heartache of the teenage phase," she said. "The need to grow and expand, the excitement of the 2020 Project, and the constant changes in hopes of improving the campus — I see hope in spite of the fear of the unknown, I see success through hard work, and I see our beautiful campus only getting bigger and stronger."
Please describe what your job entails. 
I manage the campus signage program, the Division of the State Architect's accessibility review process and the Savings By Design incentive program for all design and construction projects at UC Merced. I manage donor and class gift projects. I also do design reviews and construction submission reviews for capital projects and help with design coordination for Facilities Management projects, among many "other duties as assigned."
What are some of the most rewarding things about your job?
My job is very gratifying on many levels. To be able to see projects transform from the initial concepts, through the design and the construction phases, and finally to completion is breathtaking. I am grateful that I've had the opportunity to serve many people in many units across campus over the years, and I have made many friends in the process. And I love seeing the campus develop, physically and academically. I love being surrounded by the students with their idealism and their beautiful minds.
What are some of the challenges you face in your role?
One of the biggest challenges is having to manage a design project within significant limitations. Funding is always a concern, but physical space often is, as well. It is a lot easier to say "Think outside the box" than to actually do it when limitations are boxing you in. It is so important for us to stay focused, stay positive and prioritize our needs.
What new initiatives/projects/plans are you looking forward to in the upcoming year?
Besides the ongoing projects signage requests and class gifts, we have the Classroom and Office Building 2 under construction, the Downtown Center in the design phase, additional campus parking planning, and most importantly, all the support we are providing for the 2020 Project.
Tell us something about you that people on campus might not know.
My name in English is the same as a famous river in China, the Min Jiang, which is a tributary of the upper Yangtze River. No, I was not named after the river — it was purely a coincidence.