Public Safety Awards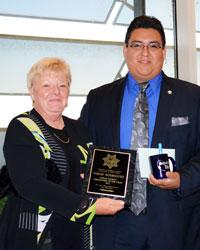 UC Merced's Department of Public Safety hosted its annual employee appreciation dinner April 18 to recognize the hard work and dedication of all department members. During this event, some department members -- who were chosen by their peers for their extraordinary efforts in 2012 -- received special recognition.
Jorge Rodriguez was chosen by his peers as the Public Safety Dispatcher of the Year. Rodriguez, who began his career with the department in February 2009, was chosen for his professionalism and for setting high standards for himself and others.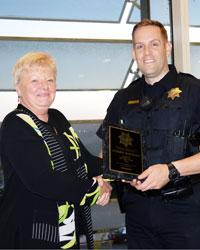 Officer Stephen Partridge, a founding member of the police department, was selected by his peers as the Police Officer of the Year. Partridge is a field training officer responsible for training newly hired officers. He also manages various department websites. This is the third time Partridge has been named Officer of the Year.
The department also recognized three student employees for their hard work and dedication. 
UC Merced Police Mentor of the Year: Josephine Sanchez
Community Service Officer of the Year: Bria Cortez
Violence Prevention Program Intern of the Year: Stephanie Toledo