Public Safety Dispatcher Earns Promotion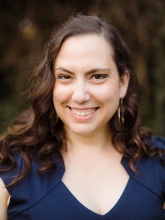 The UC Merced Police Department has promoted Reannon Cook to be its new communications and records supervisor.
Cook began with UC Merced as a public safety dispatcher in September 2005 when the campus opened to its first students. Over the past 11 years, she has been one of the voices behind the 228-2677 (CAT-COPS) phone line, answering the police department's 911 and non-emergency lines and blue light emergency phones, monitoring duress alarms and directing officers to emergency and routine calls for service.
In December, Cook transitioned into her new position where she supervises the department's public safety dispatchers, oversees police records and property/evidence.
"As a founding member of the police department, Reannon is thoroughly knowledgeable with the systems and equipment in police dispatch," interim Police Chief Chou Her said. "She understands the unique needs of the campus community and supports the police department's focus of keeping the community safe."
Before joining UC Merced, Cook was as a public safety dispatcher at the Globe Police Department in Globe, Ariz.