Public Safety Honors Top Staff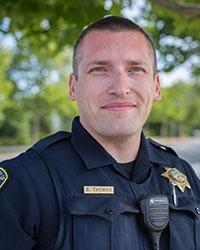 Officer Brandon Thomas' performance and contribution to the safety of the campus was recognized earlier this month, when he was awarded with the 2014 Police Officer of the Year award.
Thomas joined UC Merced's Police Department within the Department of Public Safety in April 2013, after eight years with the Merced County Sheriff's Department. While at the sheriff's department, Thomas worked numerous assignments including patrol deputy, SWAT team sniper, agricultural crimes detective and field training officer.
When Thomas transitioned into his campus role, he recognized a need to foster relationships across the university. He used his tactical background and his passion for teaching to develop an educational pilot program called Violent Intruder Response Training (VIRT). The program teaches civilians how to respond to a violent intruder or active shooter on campus.
VIRT introduces concepts and options people need to be aware of before or during critical incidents. It also helps civilians understand what a law enforcement response to such incidents might look like.
To date, Thomas has hosted 13 VIRT training classes across campus, with more than 130 UC Merced affiliates attending. Feedback on the program has been positive.
Dispatcher of the Year
In April, three public safety dispatchers were recognized as Dispatchers of the Year.
Reannon Cook has been with UC Merced since September 2005 and is a certified Peace Officer Standards and Training (POST) trainer. 
Tiffany Heyer joined the campus in March 2009 and is a certified Rape Aggression Defense (RAD) instructor. 
Josh Lutz has been with UC Merced since May 2012 and is a certified Rape Aggression Defense (RAD) Instructor and crime scene analyst. 
Public safety dispatchers serve as the essential link between students, faculty and staff members, campus visitors and first responders. They uphold the fundamental values of courtesy, respect and empathy by demonstrating the highest standards in service and public safety communications.