A Really Cool Treat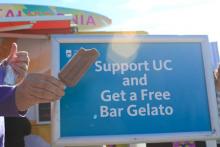 Faculty and staff are encouraged to take a break from their work and enjoy a cool treat from 2 to 3 p.m. today (Oct. 26) outside the Lantern to commemorate the 10th anniversary of the campus's groundbreaking. Bring your Cat Card to receive your ice cream.
Offsite ice cream socials will take place at:
• Castle, 11 a.m. in the Redwood Room
• Mondo, 11:45 a.m. in the Granite Room
• Promenade, 12:45 p.m. in Suite M
• Fresno Center, 1 p.m. in the Merced Room
The faculty and staff ice cream social is just one of several Founders Day events over three days.
The entire campus community got another tasty treat yesterday when the Onward California mobile tour made its final stop in Merced. As part of the Onward California campaign, Sierra Nevada Research Institute Director Roger Bales was featured in a short video called "California's Water Tower."
At the close of a six-week jaunt promoting awareness and support for the UC system, the brightly painted ice cream truck visited campus and offered activities such as a photo booth where people had their pictures taken.
Everyone who visited the mobile tour's stop on campus received free gelato bars, courtesy of Naia Gelato, based in Contra Costa County. The tour also visited Merced's Market on Main event Thursday night, coinciding with the beginning of the campus's Founders Day events.
Each of the University of California's 10 campuses had a flavor of gelato-on-a-stick named after it, and UC Merced's was Cognitive Chocolate, chosen because science professors here helped IBM develop experimental computer chips designed to emulate the brain's abilities for perception, action and cognition.