Regents Approve Long-Term Stability Plan for Tuition and Financial Aid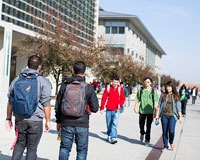 At the Thursday, Nov. 20 meeting, The University of California Board of Regents approved a five-year plan for low, predictable tuition that, together with modest state funds, would allow UC to enroll more California students, maintain the university's strong financial aid program and invest in educational quality.
The plan authorizes the UC to increase tuition by up to 5 percent per year through 2019-20, an amount that could be reduced or eliminated entirely if the state provides sufficient revenue. The full board approved the plan on a 14-7 vote. At the Nov. 19 meeting, the Regents Long-Range Financial Plan Committee approved the plan on a 7-2 vote, with Gov. Jerry Brown and Student Regent Sadia Saifuddin voting against it.
"No one wants to see the price of a UC education increase, but I believe the plan is fair and necessary if UC is to remain a world-class, public-serving university," said Bruce Varner, regents chair, at Wednesday's meeting, where the plan was discussed at length.
UC President Janet Napolitano noted that state support for UC students remains near the lowest it has been in more than 30 years. The university receives about $460 million less today than it did before the recession.
"Despite the level of public disinvestment, its research and academic reputation have been largely sustained," Napolitano said. "Entire swaths of the California economy — from biotechnology to the wine industry — have sprung from UC research. UC graduates lead the creativity and innovation activities upon which California prides itself.
"With this plan we can invest in faculty. This means we can increase course selection, speed time to graduation, and better support graduate education as well as undergraduate education. But we cannot continue to do these things without additional revenue."
She said the long-term plan also would help students, families and the university by helping to end the annual "feast or famine" budget cycle in which tuition rises and falls — sometimes dramatically — in relation to state funding.
"This plan brings clarity to the tuition and financial aid process for our students and their families," Napolitano said.
Napolitano noted that UC has one of the strongest financial aid programs of any university in the country: Fifty-five percent of California undergraduates have all systemwide tuition and fees covered.
The plan preserves that robust aid model. It also will allow UC to enroll 5,000 more California students, a critical component given that applications are "running at a record pace," as they have been for the last decade, Napolitano said.
Brown proposed that he and Napolitano instead form a select committee to investigate a variety of ideas for reducing UC's long-term costs, including creation of a three-year undergraduate degree, greatly expanding the use of online courses, and the development of campus specific specializations.
Napolitano and other regents welcomed the committee idea, but said UC could not wait to take decisive action on the university's budget.
Regent Sherry Lansing thanked the governor and said she looked forward to deeper talks with the state.
She noted that Brown recently vetoed a bill that would have boosted UC's state funding by $50 million, and that the state also does not contribute to UC's employer portion of pension costs, even though it does pay those for both the California State University and the California Community College system. 
"Our pension funds are treated differently than CSU, and if they weren't, we would not be talking about a tuition increase," Lansing said. "The solutions are there: Give us a tuition buyout or better than that, cover the pension obligation."
Regent Bonnie Reiss echoed the sentiment. She said California's recent funding priorities have included funds for high-speed rail, water storage and a rainy day fund.
"All are important. But I say to our elected leaders, isn't investing in public higher education an equally important priority?"