Regents Hear Update on 2020 Project, Downtown Plan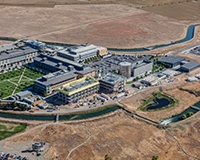 Chancellor Dorothy Leland recently outlined for the UC Board of Regents a new development strategy that will more than double the physical capacity of campus facilities by 2020.
The planned growth is an effort to accommodate record numbers of student applicants, increase regional and statewide access to a UC education and support the university's most critical academic and research priorities.
As part of the 2020 Project, the university would employ a team of private developers and an innovative, fast-track construction model to add nearly 1 million assignable square feet as rapidly and cost-effectively as possible.
Plans call for the new facilities to be built as a mixed-use, master-planned development on a 219-acre, university-owned site that includes the existing campus. By contracting with a private, multifaceted team to develop the entire project at once, rather than sequentially as individual projects, the university expects to save significant time and money compared with traditional procurement approaches.
Plan a 'Winning Proposition'
"UC Merced's progress in just 10 years is an exciting development for the university, the Merced community and the state of California," Leland said in a news release. "Our development strategy will allow us to resume rapid enrollment growth and advance the regional economy in keeping with our core mission. It will also allow us to build strategically, aligning facility additions with our emerging academic and research priorities and creating a sense of community that encourages faculty, student and staff collaboration.
"This is a winning proposition that could serve as a compelling alternative delivery strategy for future higher-education capital projects for the university and the nation."
The 2020 Project is expected to create 10,800 new construction jobs in the San Joaquin Valley during the construction period and generate an estimated $1.9 billion in direct and indirect economic impact in the region. Statewide, the totals are 12,600 new construction jobs and $2.4 billion in combined economic impact.
The expansion project will also significantly increase permanent university employment and support enrollment growth to about 10,000 students, the university said.
Construction could begin in late 2016 or the first half of 2017, with phased delivery of facilities starting in 2018.
Regents Approve Funding for Design Work on Downtown Center
In a separate action at the March 18 meeting, the board approved funding to begin design work on the Downtown Center, the administrative building complex that will serve as the hub of the university's off-campus operations in Merced. The center will be built on land purchased last year at the corner of N and 18th streets, across from City Hall.
With between 75,000 and 100,000 available gross square feet, the facility will allow the university to consolidate much of its administrative activity in a central location that will help bring economic vitality to downtown and promote a closer relationship between the campus and community.
The slides Leland presented to the regents can be seen here.