Researcher Examines Use of Torture by Governments
What makes a government decide to use torture in its interrogations? How do those decisions differ when terrorism is suspected? Once torture starts, how can it be stopped?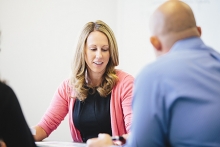 These questions are at heart of the research being conducted by political scientist
Courtenay Conrad
, a professor in the UC Merced School of Social Sciences, Humanities and Arts.
Conrad's research stems from her interest in the way institutions — government institutions in particular, but also social institutions like marriage — constrain human behavior. Her research focuses primarily on human rights violations, and much of it relates to the institutional use of torture.
"We as citizens allow the government to have a certain power over us," Conrad said. "So trying to prevent governments from using that power against the citizens who give it to them in the first place is something I'm interested in."
Conrad has found torture to be a common practice by governments throughout the world, regardless of regime or political ideology. And as she told
Discovery News in a recent article
, it can be difficult for democratic governments — with their inherent separation of powers — to stop institutionalized torture once it has started. Her research on the topic was published in the
American Journal of Political Science
.
In an ongoing research project, Conrad has found that it is difficult to change governmental torture practices by way of elections. Courts, which are designed to protect the rights of minority groups, are often more likely than government institutions to stand against the use of torture.
"The groups most likely to be subjected to torture are criminals, marginalized people and dissidents," Conrad said. "None of them vote as a block, and the average citizen is unlikely to vote to protect their rights. Courts are there for that purpose."
And in another recent study,
published in Foreign Policy Analysis
, Conrad found the prevalence of
torture on suspected terrorists
varies depending on who conducts the interrogations and where the attacks came from. The only significant increase was seen in torture by the military, and only then in response to transnational terrorist attacks, not domestic attacks.
Conrad came to UC Merced in 2013, joining a growing program that features
faculty members who are among the most productive in the country
when it comes to scholarly research. A first-generation student herself, she was excited by the opportunity to work with students at UC Merced, 68 percent of whom are first-generation. 
"UC Merced offered me the chance to be part of building a program in a way that wouldn't have been possible at other universities," Conrad said. "Our senior faculty members have decided to build a program in which everyone has a similar approach to the study of politics, using the scientific method to study questions about political institutions and behavior. It's an exciting place to study
political science
."