Researchers Map Genetic Drivers of Melanoma
Researchers at UC Merced have completed a comprehensive map of the genetic makeup of melanoma, the deadliest form of skin cancer. By comparing the genomes of more than 300 melanomas, the researchers were able to identify mutational hotspots that give rise to cancer.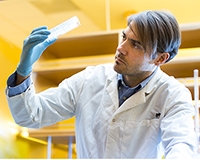 The research team, led by
Professor Fabian V. Filipp
, was able to confirm preeminent drivers of melanoma and identify new melanoma genes. The study, "
Cancer systems biology of TCGA SKCM: Efficient detection of genomic drivers in melanoma
," published this month in Scientific Reports, an open access journal from the publishers of Nature.
"Now that we have the genomic landscape of melanoma, we can navigate it," Filipp said. "We can provide the maps to make it easier to identify melanoma risks, develop new therapeutic targets and create better diagnostic readouts." 
The team employed a systems biology approach to the study — instead of examining a single DNA change and its role in cancer development, the researchers combed through billons of DNA base pairs. The result was a map showing a dense network of mutational hotspots — areas where a series of related genetic mutations occur. Such hotspots coordinate cell division and are anything but random. 
The availability of big genomic data — a recent development in scientific research — challenged the researchers to study more melanoma genomes than anyone had before and promises to provide new methods by which scientists can learn about and understand cancer.
"Systems biology has a major impact on how we view cancer today," Filipp said. "An important step was to employ a rigorous filter that separates millions of random molecular events from those events that drive cancer." 
The study found that in melanoma patients, the signaling pathway of proto-oncogene BRAF — a gene that causes cancer — is hyperactive, triggering uncontrolled cell division. Filipp and his team determined that BRAF mutations are bona fide drivers of melanoma, then looked for the mutation in other forms of cancer. 
They found the mutation was also prominent in thyroid cancer, which was previously unknown, and their analysis could lay a foundation for future assessment and treatment of melanoma and other cancers.
The study was carried out within the framework of
The Cancer Genome Atlas
(TCGA), a big-data project exploring the universe of genomic changes involved in all types of human cancer.
Filipp's research focuses on melanoma and cancer metabolism, and he recently was awarded the prestigious Thomas B. Fitzpatrick Medal, presented only once every three years by the International Federation of Pigment Cell Societies to a handful of researchers worldwide who have made outstanding contributions to the study of melanoma and pigment cells.
"Professor Filipp exemplifies the innovative ways in which UC Merced researchers approach issues of local, national and global significance," said Vice Chancellor for Research and Economic Development Sam Traina. "We are proud to see that his outstanding work is being recognized." 
For the melanoma study, Filipp's multidisciplinary team — which included Dr. Jian Guan and Ph.D. student Rohit Gupta — received an $800,000 grant from the National Cancer Institute at the National Institutes of Health. Filipp hopes to one day apply the same sort of analysis to melanoma patients in the Central Valley of California, to learn more about risk factors in the region.