Rising Student Demand Drives Enrollment Growth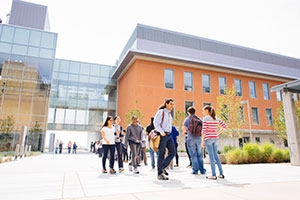 UC Merced enters its 12th academic year with a record-breaking incoming class, signifying strong demand for the newest campus in the UC system.
"More and more students are finding the unique qualities of a welcoming, student-centered research university — one they will help to build — very much to their liking," Chancellor Dorothy Leland said. "This promises to be a very significant year in UC Merced's emergence as the next great university in the renowned UC system."
According to statistics from the campus's Office of Institutional Research and Decision Support, 6,815 undergraduate students are registered for classes this fall, including 2,049 first-year students and 173 transfer students. An increasing number of students are seeing UC Merced as their campus of choice — only 6 percent came from the UC's referral pool, compared to 28 percent when the campus opened in 2005.
Of this year's incoming undergraduate class, 99 percent are from California. Undergraduate students from Southern California represent the largest single segment on campus at 38 percent, while 29 percent hail from the San Joaquin Valley and 23 percent from the San Francisco Bay Area.
UC Merced is an increasingly vital component of the UC system's efforts to increase access for all qualified Californians, regardless of financial need.
Roughly 88 percent of UC Merced students receive some form of financial aid, and many pay no tuition at all under the UC system's Blue and Gold program. Of its undergraduate population, 71 percent are first-generation students and 61 percent are Pell grant eligible — the most in the UC system.
UC Merced continues to admit students who meet the University of California's admission criteria.  This year, 26 new students were awarded UC Regents Scholarships, the most prestigious UC scholarship awarded, based primarily on their academic and personal achievements.
"We continue to educate some of California's brightest students, many from traditionally underrepresented populations," Vice Chancellor for Student Affairs Charles Nies said. "We want them all to know that they belong here, will thrive here and have the ability to become successful in their chosen career."
That support for students, combined with the overall quality of UC Merced's research and academics, is earning the campus national recognition. UC Merced made its debut earlier this month on U.S. News & World Report's Best Colleges ranking of national universities. At just 11 years old, UC Merced is by far the youngest campus on the list, and it placed No. 8 in the nation for outperforming graduation rate expectations.
Additionally, Washington Monthly magazine's College Guide recently listed UC Merced as No. 8 in its "Best Bang for the Buck: Western Colleges" list, and No. 5 in the nation for social mobility.
To accommodate growth, preparations are underway for a major campus expansion, the Merced 2020 Project, which will support a projected enrollment of 10,000 students upon completion.