Run Raises $2,500 for Scholarship Funds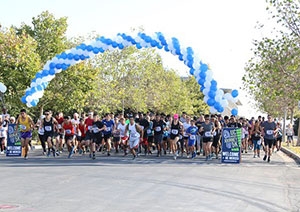 More than 300 participants, including students, alumni, faculty and staff members and friends of the campus, gathered for the second annual UC Merced Journey 5K Fund Run earlier this month.
First-year biological sciences major Guillermo Rivas, who is on the UC Merced men's cross country team and is the son of senior custodian Guillermo Rivas, took first place, finishing the run in less than 16 minutes.
The event, hosted by the UC Merced Alumni Association (UCMAA), Athletics and Recreation, the Campus Activities Board and the Student Alumni Association, collected more than $1,000 from registration fees to support the UCMAA Scholarship Endowment Fund. Additional donations of $1,500 will further support scholarships for UC Merced undergraduate students.
The final time results for each participant are posted online. Photos of the day can also be found online.
Participants are encouraged to take a brief survey to help improve the fundraising run.