Senate Director Enjoys Her Role, Team Members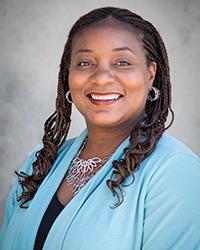 Dejeune Shelton has worked as the executive director of UC Merced's Academic Senate since April 1, but she is certainly no newbie to the campus. Before taking on her role in the Senate office, Shelton worked at the Great Valley Center in Modesto when it was still affiliated with the UC. She started as the center's senior program manager and was later appointed executive director.
Shelton wears many hats as executive director of the Academic Senate office, and one of her primary responsibilities is to serve as a liaison between the campus's faculty and administration. For those unfamiliar with the office, the Academic Senate represents the faculty in the shared governance of the University of California. Shared governance, one of the UC's distinctive features, gives faculty members a voice in the university's operation.
Shelton recently spoke with Panorama about her role with the Senate.
Please describe your job and what it entails.
The executive director is the chief administrative officer of the Academic Senate office and the chief policy consultant for the chair, vice chair, divisional assembly, the divisional council, and all standing councils and committees. My duties, in addition to supervision and management, include fiscal planning and analysis, budget management, personnel management, and systems design and information services. I'm responsible for making sure team members have everything they need.
What new projects or plans are you and your unit looking forward to in the upcoming year?
Along with the rest of the campus, we are all looking forward to strategic planning over the next year. As the campus and faculty grows, our office will need to grow as well to ensure the success of shared governance. We are also updating our website, which we hope to have up and available soon.
The team is continually working to find ways to communicate with faculty. Updating [the Senate] website will provide us an opportunity to offer faculty members more tools to keep them informed.
What do you find most rewarding about your job?
I would say working with a fabulous team here in the Senate office. I'm fortunate to have staff members who've been here for many years and are familiar with the Senate's inner workings. I call them the "Mighty Three." They are jewels and I am proud to work with them.
I also enjoy working with our exceptional faculty and administration, and being able to come to work daily and leave the office at the end of the day feeling as if I accomplished something.
What are some things about you that other people on campus might not know?
I have grown children; my youngest is 21. I have one grandchild and one on the way. I was also a Patterson City Council member for four years.
Most people don't know that I'm an avid Trekkie, from the original "Star Trek" series to the newer ones and movies.
Who is your favorite Star Trek captain?
Captain (James T.) Kirk (from the original series). I liked his confidence, his take-on-the-universe attitude and that he thought he could solve any problem. Captain Picard (from "Star Trek: The Next Generation") was thoughtful and team-oriented. But if I was in a fight, I'd want Kirk at my side because he's gung ho and will go all out.