Senior is New Leader, Advocate for UC's 240,000 Students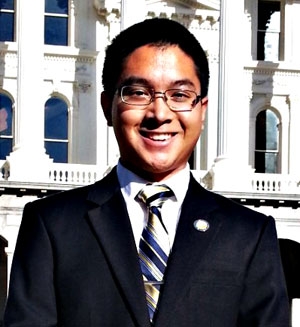 Jefferson Kuoch-Seng is now the official voice for the University of California's roughly 240,000 students — the first UC Merced student ever to serve in that role.
In August, Kuoch-Seng was elected president of the University of California Student Association (UCSA) by its board of directors. The organization represents students and, in part, advocates for accessibility, affordability and quality in the 10-campus system.
"I'm excited to be the first UC Merced student elected to this office," he said. "It's a pretty great thing."
Kuoch-Seng said his election should more closely connect UC Merced to its fellow universities and help raise the visibility of the UC's 10th and newest campus. He's already been quoted in a variety of news stories and been interviewed by the Agence France-Press, a French media service.
During his one-year term, Kuoch-Seng said he'll continue to advocate for students and work on systemwide campaigns such as Invest in Graduation Not Incarceration, Transform Education (IGNITE) and UConsent, a three-pronged approach to combating sexual violence.
Kuoch-Seng, who is majoring in management with a minor in economics, has been active for three years in UC Merced's student government. He was elected as a senator in his sophomore year and then as external vice president last year and this year.
"I've had a lot of fun being in leadership roles on campus," Kuoch-Seng said. "It's great because of all the different people you get to meet and interact with. That's the best part of leadership."
Steve Lerer, assistant director of student life at UC Merced, praised Kuoch-Seng as a humble leader and dedicated advocate whose election is good for the campus and students across the system.
"He is someone who really has student interests at heart," Lerer said. "To have a student who is so respected by the other campuses says a lot about the student leadership on our campus."
Student government is a newer path for Kuoch-Seng, who grew up in Clovis and devoted much of his high school years to working for nonprofit causes like Tree Fresno and HandsOn Central California. He was accepted at several universities but decided to enroll at UC Merced in 2011.
"I just felt that UC Merced was a place with a lot of opportunities for me," he said. "Now that I'm in my fourth year, I know I made the right choice."
Kuoch-Seng plans to graduate in May and look for management or other work in the nonprofit sector. Ultimately, he hopes to pursue an MBA or doctorate and perhaps become a university professor.
Kuoch-Seng's election as UCSA president isn't the only recent trail-blazing honor for UC Merced. At the same August meeting where he was chosen, the campus was picked to host the 26th annual Student of Color Conference from Nov. 7 to 9.
This marks the first time that the UCSA's oldest and largest conference will be held at UC Merced. The conference is expected to draw between 800 and 900 people and provides a safe place for students of color and their supporters to gather and discuss a variety of issues.
"It gives students of color an opportunity to strategize on how they want to further their causes together," Kuoch-Seng said.
Local officials are expected to study the economic benefits of the conference, he said.
"Having up to 900 people in the community of Merced definitely should have an impact on the community itself," Kuoch-Seng said.