Several Departments Debut New, Responsive Website Theme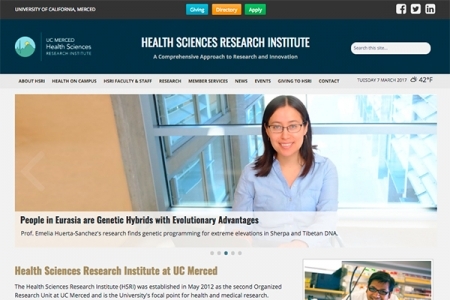 UC Merced's Web Communications team has launched more websites that feature Yosemite, the new responsive template that makes it easier for site users to access important information across multiple devices.
Commencement, Summer Session, UC Merced Administrative Coordination Team (ACT), University Extension and The Math Center are the most recent departments to transition their existing websites to Yosemite, which combines informative and accessible content with a modern look that adjusts when viewed on mobile devices.
Yosemite is the only official website template approved for use by UC Merced departments, divisions, schools and academic programs and is available at no charge.
The design also meets Web Content Accessibility Guidelines' AA rating, meaning the design fulfills the required level of accessibility for users that employ assistive technology devices when using the Web.
Another key feature of the new theme: It allows news from the gateway website and events pulled from the Events calendar website to be imported to secondary websites. This feature helps keep website content fresh and while removing duplication efforts, according to Web Communications Manager Amy Lozano-Smith. Website owners can ask for these features when they submit their migration requests.
Other websites that have undergone the migration process include the Office of the Chancellor, Merced 2020 Project and Health Sciences Research Institute.
Web Communications has developed tools for clients to use to prepare their departments' websites for migration. Each website owner needs to complete a pre-upgrade checklist and is encouraged to re-evaluate his or her strategy to deliver a stronger product that will meet the goals for the website.
Site owners remain responsible for developing their own content and maintaining accuracy and accessibility standards.
Lozano-Smith will start sending out information to site owners this week to encourage migration signups as the web team prepares for the Drupal 8 upgrade post migration.
For departments with websites that aren't hosted on the campus's content management system (CMS), Web Communications recommends that the site's color palette and logos be updated to the campus's new web standards.
University Communications recently unveiled updated web standards and branding elements in the campus's Brand Standards manual. A consistent brand helps define and reinforce UC Merced as an institution and further promotes the campus's academic distinction, research excellence and the success of our students. Use this link to download a PDF of UC Merced's Brand Standards.
More information about web services is available on the University Communication website. Questions? Contact Lozano-Smith.