Spatial Analysis Center Expands Training, Research Tools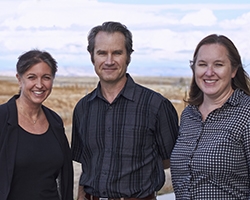 UC Merced's innovative Spatial Analysis and Research Center is mapping the next chapter in its development with a new faculty co-director and efforts to show imaginative uses for geographic information systems (GIS) tools.
Known as SpARC, the interdisciplinary center provides training, consulting services and support on a wide variety of research projects. Key goals now are training more students and faculty members and broadening the applications of GIS and spatial analysis in research.
"We're here to support anyone and everyone," said Erin Mutch, the center's manager. "You can't do the research without trained students and faculty."
SpARC, housed in the Social Sciences and Management building, offers computers loaded with GIS software packages, related equipment such as large-format scanners and plotters and staff members with technical expertise. The center regularly hosts workshops, "spatial teas" and other events to introduce students and faculty to its core concepts and tools.
For example, GIS can be used to create sophisticated and multi-layered maps that contain a large volume of information. Earlier this semester, Mutch quickly built a map of the Butte fire while it burned in the Sierra foothills. The map gained traction on social media, generating tens of thousands of views, and was used as an information resource by evacuees and several local media outlets.
Applications Are Endless
That's just one example of the power of GIS and spatial analysis. The center has also helped scan and digitize features on historic San Joaquin Valley maps, assisted with a project to identify areas with commercial development potential at the Castle Commerce Center and scanned archival maps from the Merced Irrigation District.
SpARC has also supported the work of history Professor Ruth Mostern, one of the guiding forces behind the center and a faculty co-director until she stepped down from that role in August. Mostern is analyzing settlement patterns in ancient China with the help of GIS technology.
"To have a historian lead a technical GIS center is rare," Mutch said. "She really took hold of the administrative leadership and helped navigate the UC system to ensure that we were successful and connecting with the right people."
Taking Mostern's place as co-director is Professor Holley Moyes, an anthropological archeologist in the School of Social Sciences, Humanities and Arts. Moyes is known for her exploration of the Maya culture and caves in Belize, and recently was named by Business Insider as one of the 15 most amazing women in science today.
"She is unafraid to use GIS in ways you wouldn't think of," Mutch said.
Spreading the Word About GIS
Moyes said she's eager to train more students and to talk to the campus community about the value of GIS in different kinds of research.
For example, she said, GIS can be used to create "story maps" with the additions of photos, text and more. One of her students is using GIS, eye-tracking glasses and other tools to determine and document the features that first stand out when looking at a photo of a cave.
Moyes said anyone can learn the basics at one of the center's workshops, and every student can benefit from GIS training — especially because this important skill can help in landing a job, she said.
"If GIS training and experience is listed on a student's resume, they will have a distinct advantage as more employers and researchers need GIS as a tool to support their projects," Moyes said.
While the center itself is only a few years old, the idea of SpARC dates back to 2005. The concept was the product of discussions between Mostern and engineering professors Shawn Newsam and Qinghua Guo.
"Spatial analysis was a thread that ran through all of our research," said electrical engineering and computer science Professor Newsam, SpARC's other co-director.
Newsam expects the center to become more involved in research projects across campus — and involved in grant-writing and development projects in their early stages. He said SpARC fills an important research, service and teaching role on campus.
"Spatial thinking is a critical skill and needs to be developed like other critical skills," Newsam said. "SpARC is poised and eager to help the UC Merced community develop these skills."