Spring Admit Events Draw Strong Student Interest
Whether it's a student-led tour of the campus, a virtual tour or attending an event hosted by the Office of Admissions, UC Merced offers prospective students numerous ways to engage with the campus community so they can make their college decisions with confidence by May 1.
This year, admissions implemented a strategic comprehensive marketing and recruitment campaign to meet its enrollment target of 7,800 students in Fall 2017 — including about 2,000 new first-year students and 200 new transfer students. Using data analysis, the campus reached a record 25,000 applicants. 
The admissions team sought ways to increase accessibility to students throughout the state.
"We know that getting students to visit the campus is crucial and that our tour program and Bobcat Day are significant," Director of Admissions and Outreach Encarnacion Ruiz said. "For those who aren't able to come to campus, we wanted to bring the campus to them."
Admitted student receptions were purposely located in Fremont, Los Angeles, Sacramento, San Bernardino and San Diego, based on the number of applicants, the pool of admitted students and the geographic region. More than 1,700 admitted students and family members attended earlier this month. Prospective students had the opportunity to meet admissions counselors, local alumni, current students and other admitted students from their areas.
Each reception had a waitlist, showing the outstanding outreach efforts by admissions advisors and increasing demand for the newest UC campus.
On April 22, Bobcat Day provided admitted students another opportunity to gain insight into what life as a UC Merced Bobcat is really like. Nearly 3,000 prospective students and their families visited campus to take tours and talk to staff and faculty members and current students. They explored clubs and organizations, fraternities and sororities, learned more about financial aid and sat in on a mock lecture.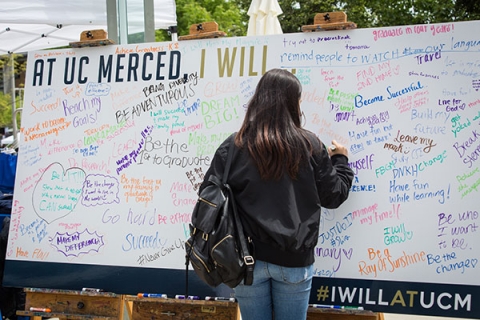 A number of students formally submitted their intent to register at Bobcat Day, while others had already made commitments and were solidifying their decisions.
Ruiz said he isn't surprised so many students commit to attending once they see the newest UC campus firsthand.
While careful preparation and planning are instrumental in the effectiveness of each event, campuswide collaboration is also critical to success. 
"Faculty members add important academic and interpersonal perspective for students and families," Ruiz said. "Staff representatives for various campus programs address inquiries ranging from housing to financial assistance and current students share their personal stories and how UC Merced has changed their life."
View more images from UC Merced's Bobcat Day on the campus's Facebook page.