Staff Appreciation Week 2017: Get Ready for 'Fun in the Sun'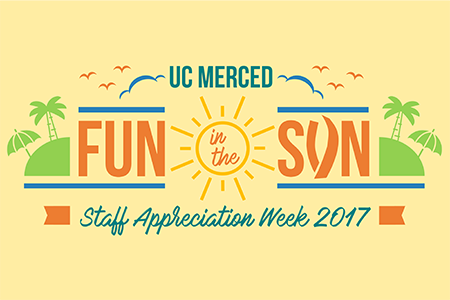 Get out your sunscreen and shades — next week's Staff Appreciation Week is focused on "Fun in the Sun," and includes a laundry list of activities tailored to the campus's professional staff members.
Sponsored by UC Merced's Staff Assembly with support from the Office of the Chancellor and Human Resources, Staff Appreciation Week, set for May 16-19, is observed the week after commencement every year. For many, it represents the official beginning of summer.
"People outside of education may think schools shut down when the semester ends, but the work of supporting the university's mission is a year-round task," said Staff Assembly President Pam Taylor. "It means a lot to spend the week recognizing the tireless work our staff members do throughout the year."
With temperatures in the mid- to high 70s in the forecast next week, Staff Appreciation Week is the perfect excuse to head outdoors for a little fun with peers. Supervisors are encouraged to grant staff members release time to participate in the week's festivities. Staff Assembly activities are considered an official university function and release time is covered in the Staff Assembly bylaws and the UC Office of the President's Guidelines for Relations with Employee Associations/Advisory Groups.
All Staff Appreciation Week events will be held on campus, with the first event scheduled on Tuesday (May 16).
Staff Appreciation Week
Tuesday, May 16
7:30–9:30 a.m.: Kickoff to Staff Appreciation Week Breakfast (CatCard required), in Kolligian Library, Room 355
9:30–10:30 a.m.: Central Plant tour
11 a.m. to 2 p.m.: Staff games — kickball, UC Merced soccer field
Wednesday, May 17
11 a.m. to noon: Central Plant tour
2:30–4:30 p.m.: Drone activities, Carol Tomlinson-Keasey Quad
3–5 p.m.: Community Vendor Fair, Scholars Lane adjacent to the Carol Tomlinson-Keasey Quad
3:30–5 p.m.: Ice cream social, first floor Lantern
Thursday, May 18
Friday, May 19
8:30–10:30 a.m.: Vernal Pool and Grasslands Tour
11 a.m. to 1 p.m.: Staff Appreciation Week Picnic (CatCard required), Classroom and Office Building 2 Plaza (courtyard between COB2 and Kolligian Library)
CatCards will be scanned at both the breakfast and picnic to ensure professional staff and management gain entry to the events.
One activity new to the festivities is drone demonstrations conducted by Brandon Stark, director of the Center of Excellence on Unmanned Aircraft System Safety. The demonstrations will take place in the Carol Tomlinson-Keasey Quad during the ice cream social and community vendor fair.
This year offeres a significant change to the staff picnic. Instead of an open buffet luncheon, employees will enjoy a pre-ordered boxed lunch in the first floor of the Lantern and the outdoor area between the Kolligian Library and Classroom and Office Building 2. Staff can choose among lunch options online. The Cupcake Lady will be on site with desserts for attendees. There will be a photo booth to capture memories, along with a live DJ and outdoor games.
Sign up for Merced Vernal Pools and Grassland Reserve tours and Central Plant tours today; space is limited. Registration for the kickball games is due May 12. Off-site staff members who must travel to campus for Staff Appreciation Week activities are encouraged to carpool. Parking enforcement will be relaxed in the Lake Lot 2, Evolution Valley and Mammoth Lake lots during the following times:
Monday: 10 a.m. to 2 p.m. (T-shirt distribution and Staff Assembly general meeting)
Tuesday: 7 a.m. to 3 p.m.   
Wednesday: 10 a.m. to 6 p.m.
Thursday: 8 a.m. to 3 p.m.
Friday: 11 a.m. to 2 p.m.
Staff members who pre-ordered 2017 Staff Appreciation Week T-shirts will be able to pick them up from 10 a.m. to noon Monday (May 15) in the first floor Lantern in Kolligian Library. Those unable to attend Monday's distribution can pick up their shirt at Tuesday's staff breakfast. 
For more information regarding Staff Appreciation Week, email staffassembly@ucmerced.edu. A PDF version of the event flier can be downloaded here to post in common areas and workstations.