Staff, Faculty and Alumni Propel Giving Campaign's Success
UC Merced employees and alumni were loud and proud supporters of the #GiveTueUCM campaign, part of the international day of charity known as Giving Tuesday on Dec. 1.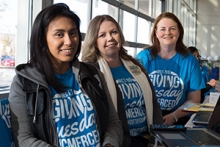 Including matching funds, the university raised more than $310,000 for undergraduate scholarships. Last year's inaugural effort raised just over $40,000.
Almost 400 individual donors participated in this year's campaign. Of those donors, 117 were UC Merced alumni and 150 were either staff or faculty.
"It may be the highest number of individual donations we've ever received on a single day," said Chris Abrescy, alumni relations director and a member of the campaign's steering committee.
The 3-to-1 match, offered by Wells Fargo and Foster Poultry Farms, quadrupled gifts directed to 12 scholarship funds during the 24-hour #GiveTueUCM campaign.
The first two gifts of the campaign came from Chancellor Dorothy Leland and Vice Chancellor for Development and Alumni Relations Kyle Hoffman. About 24 hours later, alumna Danielle Armedilla (2012), who works in the Office of the Chancellor, made the final gift.
The School of Natural Sciences raised almost $22,000 for its undergraduate fund, after the match. The School of Engineering raised about $9,500, and the School of Social Sciences, Humanities and Arts raised almost $12,300.
Choice to Give is Personal
School of Natural Sciences Dean Juan Meza was a vocal advocate for the campaign, challenging his staff, faculty, students and alumni — and even his fellow deans — to support the initiative throughout the 24-hour period.
The first in his family to attend college, Meza knows firsthand the effect scholarships have on the students who receive them.
"My parents had little money to provide for college," he said. "Without that financial support, I would not have been able to attend Rice University, my first-choice school, and I likely would not be where I am today."
When Meza talks about what drives him to personally support scholarships and encourage others to do the same, he echoes the sentiment shared on social media by other employees who participated in the campaign.
"I feel a strong obligation to pay back that debt and to help those in need today," he said. "I know our students are deserving of these scholarships — they are smart and hard-working, and they have a dream. It makes me feel good that in some small way, I can help make their dreams of a college education come true."