Staff Member Helps Students, Alumni Get the Job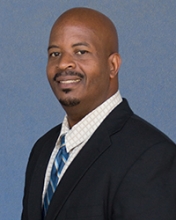 Daryl Fitzgerald wanted to be a businessman when he grew up.
"I respected businessmen and the way they took care of things that needed to be done," Fitzgerald said. "I wanted to emulate that."
Now, Fitzgerald helps UC Merced students and alumni take care of business by helping them land jobs, internships and spots in graduate school programs as the Center for Career and Professional Advancement's (CCPA) associate director for corporate relations.
Like many of UC Merced's students, Fitzgerald was the first in his family to attend college. The Compton native knew that furthering his education would help him achieve his goals, so he applied to California State University, Chico, where he studied business and minored in psychology.
His first job after college was at his alma mater, where he spent several years before joining Fresno State as a recruitment coordinator and career counselor. Fitzgerald worked in Fresno for eight years when he heard UC Merced's career center had hired a sharp new director named Brian O'Bruba.
"I was told he was an outside-the-box thinker who wanted to engage with employers," Fitzgerald said. "At that time in my career, I welcomed the chance to work side-by-side with an engaging director and learn."
Fitzgerald joined UC Merced in 2011 as an employer relations and internship coordinator. About a year later, he became the assistant director for corporate relations. CCPA has grown extensively since he first started, with more staff members who help students and alumni identify opportunities and plan their career paths.
CCPA's hard work has paid off. Employers who hadn't heard of UC Merced or were hesitant to send recruiters to the newest UC campus now have the university on their radar. One of CCPA's shining accomplishments was getting Google representatives to come to campus, something the company has done twice.
"Now, we have several UC Merced alumni working for Google," Fitzgerald said. "I've talked to some people who work at colleges that are 30 minutes away from Google headquarters and they've spent years trying to get them to visit."
CCPA staff members work extensively with students to help prepare them for the next phases of their educations and careers, and the efforts have paid off. In 2015, CCPA won the National Association of Colleges and Employers (NACE)'s Career Services Excellence: Large College award for its "innovative student professional development programs and employer relations initiatives during a post-recession era."
This is one of CCPA's busiest times of the year as the end of the academic year and commencement approach, but Fitzgerald made time to speak with Panorama about his role:
Please describe what your job entails.
The associate director for corporate relations is part of the leadership team within the CCPA. Corporate relations is a key position that interacts with various businesses, government and nonprofits — anyone who does hiring. I provide high-level consultation to employers seeking ways to maximize their recruiting efforts. I also develop our strategic plan to increase internships and part-time and full-time opportunities for students, alumni and graduate students.
I am often the hiring institution's first point of contact at the university, so I meet hiring directors, CEOs and various others. My position affects multiple areas of the university, not just hiring. I interact with people who bring their kids to UC Merced to look at as a potential place to attend school. I've met others who end up becoming donors and some industry people who come and interact with the campus and faculty members as presenters in their classes.
What do you find most rewarding about your job?
Helping our students and alumni succeed. I get such a great feeling of joy to see and hear the enthusiasm coming from students when they reach the next level in pursuit of their goals. Or, when an employer who had no prior engagement with UC Merced hires one of our students or alumni, and they call or email to let us know about the success their company is experiencing with that hire.
What are some of the challenges you face in your role?
Making sure our students are aware of the highly-competitive environment they are up against. It is so important for them to come in to the CCPA office to make sure they are ready. UC Merced students are competing with students from other universities who have alumni already working at businesses where they want to apply for jobs or have attended graduate schools where they seek admission. Our students have to be ready. They need to be vigilant about the quality of resumes and graduate school applications they send out and fine-tune their interview skills. CCPA provides workshops and resources to ensure UC Merced students are well informed and ready to compete.
What initiatives, projects or plans are you looking forward to?
We just held our annual Career and Industry Night, which provides students an opportunity to network with representatives from businesses and governmental agencies. We're also getting ready for an information session and resume and interview workshop with Google on April 20 and our Graduation Bootcamp for graduating students on May 3. There is also our upcoming Recruit Up The 99 Career and Internship Fair. Last month's event was our largest with more than 76 employers and 750 students and alumni. Many employers conducted interviews following the event.
What do you want people to remember about you?
That I was a hard-working, humble and non-drama man who was straightforward and genuinely cared for those he served.