Staffer Wears Multiple Hats as Dean's Executive Assistant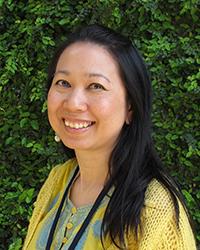 Anyone who's called, emailed, dropped by or tried to schedule an appointment with the dean of the School of Engineering has likely interacted with D.B. Quan.
Quan, executive assistant to Dean Dan Hirleman, is often the first point of contact for people who reach out to the dean -- whether they're students, faculty, staff, community members, potential donors or members of industry – and has worked in the role since December 2010.
She applied for the position after her husband was accepted at UC Merced as a doctoral candidate. Before joining the campus, Quan was the administrative director for the Chinese American Museum in Los Angeles. 
What sparked your interest in UC Merced?
I always wanted to be around an education environment because I like learning and teaching. After my husband was accepted into the Ph.D. program, I thought about what would be the best working environment. I really wanted to be a part of UC Merced because there is so much potential here. I've had a great experience in Merced. Our daughter was born here and she's 7 months old now. It's definitely been a family-friendly environment.
Describe your role as executive assistant to the School of Engineering dean.
It's wide ranging. [As an executive assistant], you wear multiple hats. You're a scheduler, gatekeeper, confidant, technician and more. Supporting someone at that level, I'm assisting in setting and keeping track of tasks -- knowing what's already been done and what still needs to be done but not inundating him. It makes you think ahead and think through everything you do.
What is the most rewarding part of your job?
Being able to witness key decisions being made and the positive impacts they have on students, and the dean's involvement with his programs and contacts. It's exciting. (Dean Hirleman) brings a lot of institutional knowledge to his role and he's masterful at making contacts.
What new initiatives, projects or plans are you looking forward to this year?
The School of Engineering's Innovate to Grow is expanding and becoming increasingly fine tuned, and we're working to ramp up our internships and get industry to see we're producing quality students. Our Service Learning program and Innovate Design Clinic are growing, and we are positioning ourselves for ABET accreditation for three of our programs. Everything we do is geared toward preparing students for a meaningful and successful future. It's all about this continuous process of building and cultivating a talent pool for the community and businesses in the San Joaquin Valley and beyond. 
Tell us something about you that people on campus might not know.
I'm a huge movie buff, and I love world cinema. I can't tabulate the hours I've spent watching movies. Naming a favorite is hard. I can name a favorite movie from every decade. I love Audrey Hepburn and Peter O'Toole movies.
Another thing people don't know is that I learned how to ride a bike just last year!