State Treasurer Chiang Impressed by Campus Visit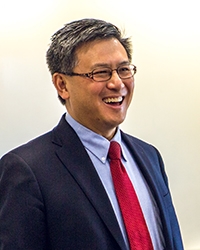 California State Treasurer John Chiang spent several hours on the UC Merced campus last Thursday, visiting classrooms and labs and meeting with faculty members and university leadership before giving a well-attended public policy address in the evening.
Chiang came away impressed by the UC's newest campus. After a campus tour, he visited a class on Urban and Regional Economics, then met with political science and economics faculty members.
He later met with Chancellor Dorothy Leland, UC Chief Financial Officer Nathan Brostrom and Vice Chancellor for Planning and Budget Daniel Feitelberg to discuss the campus's ambitious growth plans, among other topics.
"With the help of a new world-class university in Merced, we can all enjoy our share of the ever-present and realizable California dream," Chiang said.
As the state's banker, Chiang oversees trillions of dollars in transactions every year, selling California's bonds, investing its money and managing its cash with a commitment to transparency. In November, he unveiled DebtWatch, a website that offers the public easy access to three decades of data related to debt issued by state and local governments.
In addition, he manages financing authorities that help provide good-paying jobs, better schools, improved transportation, quality health care, more affordable housing and a cleaner environment. He handles those duties while sitting on the governing boards of the nation's two largest public pension funds — the California Public Employees' Retirement System (CalPERS) and the California State Teachers' Retirement System (CalSTRS).
"Treasurer Chiang's visit was an excellent opportunity for us to showcase our university and discuss our approach to the development of our burgeoning campus," Leland said. "We greatly appreciate the treasurer's interest in the growth of UC Merced and recognition of our campus contribution to economic growth in this region."
Chiang was elected treasurer in 2014, following an eight-year stint as state controller. In his previous role, he helped guide the state through the Great Recession, taking steps to keep the state's credit rating from plunging and working to ensure the solvency of the state's pension plans.
Chiang began his career as a tax law specialist with the Internal Revenue Service and previously served as an attorney in the State Controller's Office. He was elected to the Board of Equalization in 1998 and served two terms, including three years as chair.