Stay In the Know with UCM Alert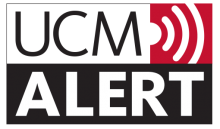 The campus's UCM Alert emergency notification system shares critical information to everyone who has signed up. If an emergency happens on campus, the UCM Alert notification system will send text, email and/or phone messages with important information and directions to help ensure the safety of the campus community.
By default, UCM Alert will send a message to all UC Merced email addresses. To receive UCM Alert notifications via any other method, such as by text or phone message, people must update their contact information in the MyUCMerced portal, under Change UC Merced Alert Notification Information. The campus will only use this system for emergencies or to test the system.
For more information about the UCM Alert or other emergency information, visit emergency.ucmerced.edu.