From Student Body President to Governmental Relations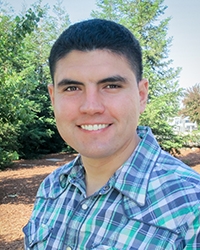 When Miguel Lopez was considering where he wanted to go to college, UC Merced was at the forefront.
"I didn't want to pass up the opportunity to help start new traditions and be a part of one of the first classes at UC Merced," Lopez said. "At the same time, I wanted to go to a school that had plenty of opportunities for students and that was close to home."
For Lopez — a first-generation college student who grew up in San Joaquin, a small farming town in Fresno County — UC Merced had all the qualities he wanted in a university.
When he first arrived, Lopez majored in computer science, but history and politics were his true passions.
"I've been interested in government and history since I was a child," he said. "I watched plenty of documentaries on past presidents of the United States and read about them in history books."
He continued in the computer science major for a while but admits it was a struggle. His turning point came in 2008, when he got involved in that year's presidential campaign and election.
"It was exhilarating, and it made me realize that my passion was in the field of politics," Lopez said. Soon after, he changed his major to political science.
Lopez served as ASUCM president from 2011 to 2012 and later participated in the Capital Fellows Program, a joint program between California State University, Sacramento, and the State of California. The program places recent graduates and mid-career individuals within executive offices in state agencies, legislative offices and courts, which provides them with firsthand experience in public policy.
Now, the UC Merced alum puts his interests in politics, service and community to work for the campus as a staff member. In 2014, Lopez joined the Office of Governmental and Community Relations. He's also a member of the UC Merced Alumni Board.
Please describe what your job entails.
I represent UC Merced at public events in the region. I interact with local elected officials, businesses and nonprofit organizations. I try to connect them with the appropriate channels within the university, and vice versa. My job also involves providing administrative support to both the executive director and federal director in the Office of Governmental and Community Relations.
What are some of the most rewarding aspects of your job?
Being able to interact with community members who I knew when I was a student; watching the students interact with the community and seeing their enthusiasm and passion in giving back to the community; and lastly, getting to work for my alma mater and advancing the goals of the university, which in turn gives back to the region.
What are some of the challenges you face in your role?
I would say some of the challenges stem from getting further acquainted with the campus's internal processes, as well as meeting more community members. I want to better understand our purchasing processes and learn more about the campus's various departments. In essence, I want to get more acquainted with our campus structure.
What new initiatives/projects/plans are you looking forward to in the coming year?
I plan on doing even more networking and making more local connections. I'm also looking forward to attending more regional events and discovering more ways to connect community members with UC Merced. I'm also looking forward to interacting with the new ASUCM leadership and helping our students in any way that I can.
Tell us something about you that people on campus might not know.
What people may not know about me professionally is that I served as a budget analyst in the California Department of Food and Agriculture for a year.
Personal things people may not know about me: I play the guitar, bass, drums and tenor saxophone, and I am currently learning to play piano. I sing, too. I love to watch movies and television shows, especially "Game of Thrones." Also, I recently started practicing martial arts again.