Student, Faculty Music Projects Enlivening Area Scene
Professor Arnold Kim's music couldn't be more different than that of student-staff-alumni band Feeling Gravity's Pull.
Kim's The Yellow Hope Project work is heavily influenced by what he's been listening to for years – old-school country, soul, blues and folk. It's quiet and confessional, moody and, well, kind of sad.
Feeling Gravity's Pull, on the other hand, is loud, vivacious and post-punk-rocking.
What the two have in common, however, is UC Merced. Both are contributing to the culture that's growing up on and around the campus, contributing their talents among the many musicians, artists and writers calling UC Merced home these days.
Kim, one of the campus's original faculty members, spent years recording demos in his home studio. But demos for what? He's not trying to have a "music career." He's not even sure he wants to be seen – his picture is nowhere to be found on the packaging of the album he released this year.
"I have a career I'm very happy with," said Kim, who spends his time blending mathematics with science and engineering.
Feeling Gravity's Pull, meanwhile, is into playing – they would play on campus as often as possible if they could book a venue, said founding member and lead singer Christopher Casuga, a UC Merced graduate who formed the group in 2010 when he was a management student here, and met his bandmates on campus.
The Yellow Hope Project's album "Even the Beautiful Get Lonely (Sometimes)" is a compendium of the 50 or more songs Kim has written over the past eight years. He gathered a group of friends, many of whom he has known since he was growing up in Louisiana, and each lent their own talents to Kim's vision for how his music should sound when played on many different instruments, from an organ and mellotron to a banjo.
Songs are sweetly titled: "She Lights Up the Room," "You," "I Have to Stop Loving You" and "Cross My Heart."
Feeling Gravity's Pull's album "Not Since the Accident," also released this year, features lyrics written by Casuga, with the songs developed by the band's four members at the time, Scott Hernandez-Jason, a UC Merced staff member, and two UC Merced students, Charlie Bullock and Sean Porter. Casuga said the songs are based on things that happen to him, which makes you wonder exactly what has happened to him with titles like "Constellate," "Reunification Talks," "Everybody's Out to Get Me (Except Me)" and, of course, the title track.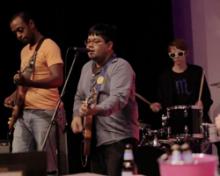 Feeling Gravity's Pull played its first live show in the dining commons, and can be seen sometimes at the popular downtown hangout The Partisan as well as other venues in the San Joaquin Valley.
Kim and the musical friends who recorded with him last year in Little Rock, Ark., have played out, too, and he said by now, he might be ready to perform on campus and even let some of his students see him.
He's already working on his next album, while Feeling Gravity's Pull is undergoing some changes – Bullock graduates soon and Porter is spending this semester in the UCDC program in Washington, D.C. Adam Trelatsky is now playing bass with the band. 
Kim, meanwhile, is just happy to be playing, hopes to record later this year or early next year and is still awed by hearing his own music played by other musicians.
"It's kind of like puzzle-solving, writing a song," Kim said. "It's like coming up with a mathematical algorithm. The magic happens when you get a bunch of talented people in a room. That's when it gets really fun."