Student-Professor Team Publishes Book on Literary Pioneer
UC Merced alumna Beth Hernandez-Jason and Professor Manuel M. Martín-Rodríguez have teamed up to create a compilation of essays devoted to the works of author John Rechy.
"The Textual Outlaw: Reading John Rechy in the 21st Century " is the first compilation of critical essays to be devoted entirely to Rechy, a pioneer in giving a literary voice to the Chicano/a and LGBT communities. It was published at the Instituto Franklin-Universidad de Alcalá de Henares in Spain, one of the leading publishers of U.S. literary criticism.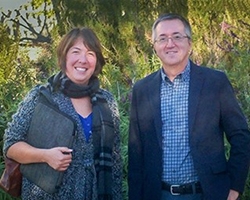 Hernandez-Jason developed a deep interest in Rechy while working on Martín-Rodríguez's Chicano/a Literature Intertextual Database (CLID), a collection of books that connect Chicano/a literature to other literary traditions.
With encouragement from Martín-Rodríguez, Hernandez-Jason centered her dissertation on the author and his work. This inspired student and professor to jointly organize a symposium on Rechy, which later led to the compilation.
"I was struck by the numerous references to reading and writing in Rechy's work, and the many intertextual references," she said. "I was also intrigued by the way his work combined sexuality and literacy."
After thorough research into the references to Rechy made by other authors around the world, Hernandez-Jason also found herself fascinated with reader responses in the online community, where anyone can write and publish.
Martín-Rodríguez recognized Hernandez-Jason's interest in Rechy and suggested that she devote her dissertation to the author.
"It was a major turning point," he said. "It was an idea that she embraced with enthusiasm."
Author Contributes to Symposium, Book
With the help of Martín-Rodríguez and the CLID, Hernandez-Jason collected an array of opinions on Rechy's work, which they used to determine who his biggest critics were. As Hernandez-Jason's dissertation neared completion, she and the professor organized an academic symposium on Rechy's work that coincided with the 50th anniversary of his literary debut.
The attendees included some of the most qualified scholars who had published on Rechy, and Rechy gave the keynote speech. After the symposium, Hernandez-Jason and Martín-Rodríguez decided to put together a collection of essays written by the symposium presenters, other authors who were unable to attend and Rechy himself.
Rechy was enthusiastic about the project and converted his keynote speech for the symposium into an essay for the book. In the essay, he discusses how he uses real people in his life to inspire his characters. He also supplied Hernandez-Jason with fan mail that dated back to the 1980s.
"I loved reading those accounts of everyday readers, and I did not take it lightly when John trusted those letters with me," she said.
Hernandez-Jason and Martín-Rodríguez worked together closely on all aspects of the project, from gathering the essays for the book to organizing catering and hotels for the symposium. Even the introduction to the volume was co-written.
"I was very familiar with the process and was able to guide Beth into it," Martín-Rodríguez said. "We did much of the work as a team."