Students Continue Their Acting Careers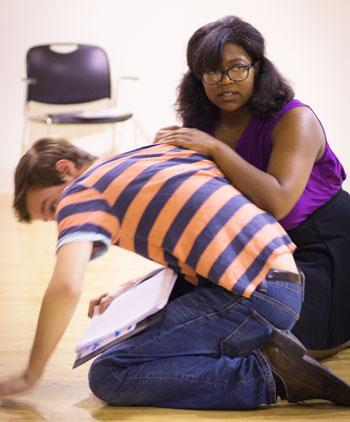 TaNayiah Bryels didn't get the lead role of Mary in her first-grade Christmas pageant, but it did spark a lifelong interest in theater.
The UC Merced student has been acting ever since, landing parts in productions of "Rent," "Hairspray" and "Once On the Island."
Bryels, a freshman who grew up in Santa Clara, has settled in with the local theater community. She recently played the role of Benvolia (changed from its original "Benvolio" in this version), Romeo's unsuccessful peacemaking cousin in Merced Shakespearefest's production of "Romeo & Juliet" in March.
This was on top of her busy class schedule and her volunteer work as a teacher at Playhouse Merced, where she instructs Acting I (ages 8–12) and Intro to Acting (ages 5–8). The English major says she's learned quite a bit during her time at UC Merced, both in class and onstage. But Bryels says she might actually be learning the most from her young students.
"[When teaching] you have to have a director's perspective," Bryels said. "I learn by seeing things they do. When I see them talking during rehearsal, I know I shouldn't be talking during rehearsal."
Sophomore James McIntyre – who played Romeo in the production – remembers those early days as a young, budding actor. He recalls singing patriotic songs in front of his fifth grade class. The biology major says he's done more than 30 shows since junior high school. Despite his experience, landing the role of Romeo came unexpectedly to him.
"I will be honest, I was very taken aback when I got the part," said McIntyre. "It's been pretty surreal playing the title role of a play."
Both McIntyre and Bryels say it was a fun challenge (this is Bryels' first role in a Shakespeare play), especially the more rigorous discipline of learning lines in addition to the Elizabethan language.
"Lines-wise, it's the most I've had to remember," said McIntyre, who's also directed a production of "The Taming of the Shrew." "I'm very lucky I've done it before."
UC Merced literature Professor Katherine Brokaw – who served as the production's dramaturg – helped actors grasp the language.
"I worked with every member of the cast to make sure that they understood all the words they are saying," Brokaw said. "I also taught them about Shakespeare's meter, and how understanding those rhythms really helps an actor understand about delivery and their character."
As much as he loves acting McIntyre, who grew up in nearby Oakdale, says it's likely just a plan B, and that he'll pursue medicine after finishing up at UC Merced.
"I would love to get into more acting," he said. "The problem is it's tough to do if you're not living in L.A. or New York."
Bryels says she plans to teach, and will probably pursue a master's in English or French, a language she's studied since she was 10. And for now her experience with Playhouse Merced is keeping her motivated to keep acting as well.
"It's been really great," she said. "I really look forward to doing more with them."