Students Recognized at Leadership Awards Event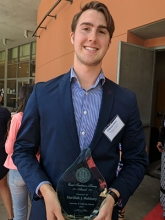 Student leaders, advisors, campus organizations and athletes were recognized at the annual the Margo F. Souza Student Leadership Center 2017 Leadership Awards celebration April 23.
A campuswide selection committee chose the winners for their outstanding performances in a variety of student activities and scholarship activities.
"While today we recognize individuals or individual student organizations, I believe that leadership isn't about the power of one," Vice Chancellor for Student Affairs Charles Nies said. "It's the collective actions of many who come together and create a powerful course for positive change."
This year's winners include:
Outstanding Advisor Award: Ala Qattawi
Inspirational Bobcat Award: Jacob Feitelberg
Outstanding Graduate Student Award: Maryam Trebeau Crogman
Outstanding New Student Organization: UC Sprouts
Cobi Jones Sport Club Male Athlete of the Year Award: Avery Knizek
Sport Clubs Female Athlete of the Year Award: Jasmine Yslas
Male Intercollegiate Athlete of the Year: Andy Galvan
Georgette Ma Kelley Female Intercollegiate Athlete of the Year: Desiree Coles
Organization President of the Year: Cristhian Gutierrez Huerta
Social Justice Leadership Award: Violet Barton
Fraternity and Sorority Council Chapter of the Year: Kappa Sigma
Professional Fraternity Council Chapter of the Year: Phi Delta Epsilon
Outstanding New Member of the Year: Morelia Marines
Outstanding Member of the Year: Mahrukh Mujeeb
University Friends Circle Community Service Organization: Society of Women Engineers                       
Margo F. Souza Entrepreneur in Training Team Scholarship: Vibronerv     
Margo F. Souza San Joaquin Valley Mentor of the Year Award: Justin Yeager
Distinguished Leader Award: Victoria Arias, Clara Medina Maya, Ariell Smith and Brenda Yu                  
Program of the Year: "Splash Conference" by Generation to Generation     
Student Organization of the Year: Lambda Alliance
Contribution to Student Affairs Award: Christopher Michael Bernal, Andre Frise-Valdez, Mercy Maina
Legacy Award: Joseph Andrade
The final award of the afternoon, the Carol Tomlinson-Keasey Award, was presented to history major Havilliah "Jake" Malsbury. The award recognizes the most outstanding graduating student, chosen from the nominees of the Legacy Award.
"Jake has a passion for service and desire for justice for all people and all communities," Nies said. "This passion fuels his willingness to go above and beyond to support others as they engage, participate and learn."
During his time at UC Merced, Malsbury distinguished himself among other student leaders and embodied the spirit of the campus's first chancellor Carol Tomlinson-Keasey. Some of his accomplishments include serving as a mentor for the Lift While You Lead community service initiative, as editor-in-chief of the undergraduate historical journal and as a member of the Native-American Tribe Conservation Project.
"It is my hope that I have left a lasting impact on UC Merced," Malsbury said. "One that will inspire students to make the most of their time as students, as well as inspiring students to serve their communities and to create a cycle of mentorship that will continue to empower students at UC Merced, the Merced community and beyond."
Get more information about the criteria for individual leadership awards online.