Study Looks at Emotion's Role in Chemotherapy Tolerance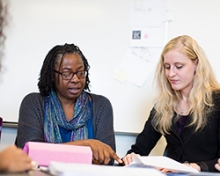 How patients perceive and talk about their illnesses can have an impact on how they recover and heal, according to a growing area of health research being furthered by UC Merced health psychology Professor Jitske Tiemensma.
"It should be a team effort to treat a patient. Medical doctors often have no idea about the psychological consequences of disease," she said. "It's really important for them to have close ties to health psychologists."
Tiemensma was selected as a 2014 Hellman Fellow, an award that's supporting her innovative research into the connections between better chemotherapy tolerance and emotion expression.
The program supports the research of promising assistant professors who show capacity for great distinction.
This summer, Tiemensma held focus groups in English and Spanish with female breast cancer survivors to learn how they've expressed their feelings and thoughts related to the disease.
Her goal is to design studies that can explore what kind of impact writing and talking about breast cancer can have for women battling the disease.
At Leiden University Medical Center in the Netherlands, where Tiemensma earned her Ph.D. in medical science, she worked with patients who had pituitary adenomas — noncancerous tumors in their brains. She found that even people who were cured still felt like patients and suffered from long-term psychological consequences. For example, quality of life remained impaired after they were cured.
"We're trying to create an entire picture, not just one that's focused on physical health," she said.
Another project in Tiemensma's psychoneuroendocrinology lab has undergraduate research assistants analyzing self-portraits drawn by people diagnosed with different diseases to see how they're perceiving their illnesses. For example, a large drawing would indicate that the disease is weighing heavily on someone's mind, she said.
Tiemensma was drawn to UC Merced in 2012 by the opportunity to collaborate with well-known professors in health psychology, but also because of UC Merced's emphasis on interdisciplinary collaborations.