Tour the UC Merced Library Via Smartphone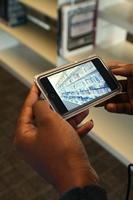 Did you know your smartphone can help you find your way around the UC Merced Library and learn about its resources and services?  
The UC Merced Library offers the
iPod Touch Library tour
, a self-paced audio-visual tour of library spaces, services and resources. The tour is designed to introduce students to a variety of library offerings and includes a section about searching in Melvyl, the UC Merced Library's catalog. 
Students are asked to complete the tour and its follow-up assignment through their Writing 1 and Writing 10 courses, but all members of the UC Merced community are welcome to take the tour at any time. This fall, more than 34 percent of students enrolled in Writing 1 and Writing 10 completed the tour. The library's goal is to reach all incoming students with the tour to provide the campus community with common knowledge about the library and its offerings.
The tour is available for checkout from the Library Services Desk or can be downloaded directly to a mobile device. 
For more information, email the
UC Merced Library
.