Transfer Student Uses Sports, Academics to Inspire Local Youth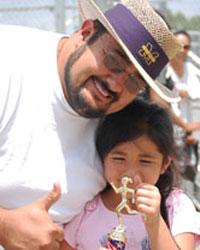 At 33, Nick Navarrette isn't the average UC Merced student. He's not even the average transfer student. Then again, Navarrette has never been "average," nor does he pretend to be. Maybe that's why adversity doesn't seem to faze him.
The former UC Merced police officer was on top of the world when he joined the campus force in 2006. He had a good life, a great career and a passion for making Merced a better place by teaching local youth the importance of making wise choices in life. As an officer, he enrolled the campus community in his vision by creating the UC Merced Police Department Mentor Program, which pairs university students with at-risk youth as mentors.
But an off-duty knee injury in 2010 brought all of that to a crashing halt when it sidelined his career. Though he had graduated from the police academy, those courses had little value outside of law enforcement.
"I was scared," Navarrette said. "I felt like I was out on the street with just a high school diploma and my kids looking at me like, 'Well, what's next, Dad?'"
School is what came next — and without delay. While others may have wallowed in self-pity, Navarrette enrolled at Merced College in January 2011. He took 24 units his first term, followed by seven summer units, 25 units the next fall and another 19 to graduate in Spring 2012 and transfer to UC Merced as a junior.
"It was intense," he recalls. "My last week at the college was my first week of summer session at the UC, so I was juggling finals and immersing myself in my new courses."
Now, the sociology major looks forward to enjoying UC life and setting a positive example for his children, ages 13, 12, 9, 7, and a fifth one who is on the way.
"I have gone from telling them to work hard to working hard next to them," Navarrette said about the change in his home life over the past year. "One thing this experience has taught me is that there is very little guaranteed in life, but my education will always be there to support me."
But school isn't the only thing on Navarrette's mind these days. He witnessed firsthand the importance of an undergraduate education and the affect exposure to universities has on youth when spearheading the police mentor program. And those are things he's thrilled to continue now as one of the key people behind the Central Valley Sports Academy, which integrates athletics with education and life-skill development.
A grassroots effort with local support from the United Way, Building Healthy Communities, the Central California Regional Obesity Prevention Program and a strong group of committed volunteers, the academy has built a competitive track-and-field program, with a plan to add more sports in the future.
"This program gives us the ability to guide youth from elementary school all the way through applying for college," he said. "With our support, these kids will learn that athletics and education can be vehicles to overcoming adverse circumstances."
Now that he's part of the student body, Navarrette has big goals for incorporating the UC Merced community into the sports academy, beginning first with a student club to develop coaches and mentors.
His goal is to get more youth on campus and more university students out working with Merced youth.
"You can't overestimate the impact of seeing a university campus up close," he said. "Seeing people eating in the library blows my kids' minds, but it's so much bigger than that. Just being on campus starts a conversation about higher education that still isn't happening in many homes."
He also hopes to spend the next couple of years at UC Merced, researching the effectiveness of preventive programs — such as the sports academy — on youth and the choices they make in life.
"That is why UC Merced is so perfect for me," he said. "For years, this university has fueled my passion for youth development. And now it's challenging me to see if it truly works the way I think it should."